Blog
Children and climate change anxiety: When wildfire smoke rolls in
BC Children's Kelty Mental Health Resource Centre | July 20, 2023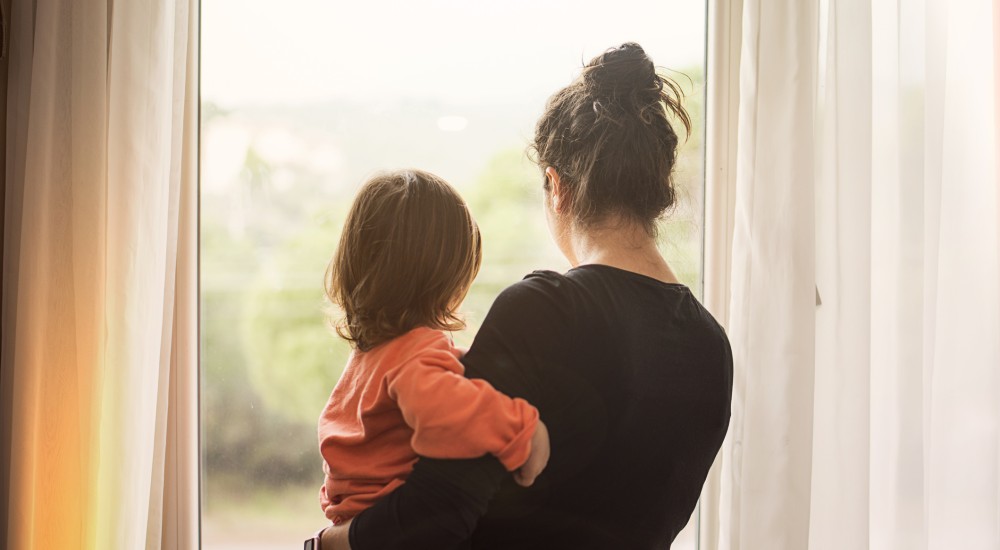 Adapted with permission by BC Children's Hospital. Original post can be found here.

The recent smoky skies from wildfires can trigger anxiety in children and youth about climate change.
'It's depressing to see the smoke and the environment changing," says Christine. "It creates a lot of worry and brings the immediacy of the climate emergency closer to home. Added to that, if you're in an area where you are seeing and breathing in smoke, the particulate matter can cause inflammation and that can also impact your mood."
Advice by age group
Over the last few years, we've endured many big and scary world events, including climate change issues like wildfires and floods. These events are worrisome for adults, let alone for kids, some of which have big imaginations depending on the age and stage of development they are at.
For preschoolers, Dr. Christine Korol recommends trying to make sure the TV is off around them because they may misunderstand the news. "They may not understand that some of the things on TV are happening far away and think everything they hear or see is imminent. Reassure them that they are safe and their parents love them. We want kids to play and get their minds off of it." If they do hear something and bring it to you, meet them where they're at by discussing what they are hearing about, because then you know that you are addressing it at the right developmental level.
For elementary school-aged children, Christine encourages parents and caregivers to try to understand if they have any misconceptions that need to be explained. You might be thinking, "How can I talk to my child about scary news and tragic events without inciting worry or fear? How much information should I share when I talk with my kids about scary news and how honest should I be? Are there skills I can teach my child to help manage the stress or worry they might feel when they hear or talk about scary news?" The BC Children's Kelty Mental Health Resource Centre recently tackled these questions in their podcast, Where You Are. In the episode titled, Talking with your child about scary news and world events, the hosts and BC Children's Hospital psychiatrist Dr. Ashley Miller discuss how to talk to your child about scary events like wildfires and floods, without inciting fear and worry. They also provide strategies to share with your child to help them cope with scary news.
"Don't assume they're nervous about what you think they're nervous about. Ask questions and help reassure them, where possible," Christine says. "Focus on how you can cope with things and manage them, while understanding that things are difficult.

 
When talking to an older child or teenager, they're usually coming to you with their own concerns and anxieties. Similar to young children, meeting them where they're at is a really nice place to have the conversation. We can't avoid fear, and it's normal to have anxiety about the climate crisis. But as Dr. Miller advises, "you can either escalate it or help kids manage it." For example, as an adult, you can help your kids and teens figure out, "How are you feeling when you watch this or read this?" "Is this the right way to be getting this information?" Is it better to maybe be talking at the family dinner table or in class or with some group of like-minded individuals that can actually do something and support each other?"
For teens and young adults who may not reveal as much about their emotions, check for changes in behaviour. If they start to withdraw or become more irritable, this can be a sign they are struggling with something.
"It's often good to have conversations in the car with them when you're not face-to-face and they're a little bit more likely to disclose. You might have to find that right moment and check in with them."
You can [also] talk to them about becoming more active about climate change. For some, like climate activist Greta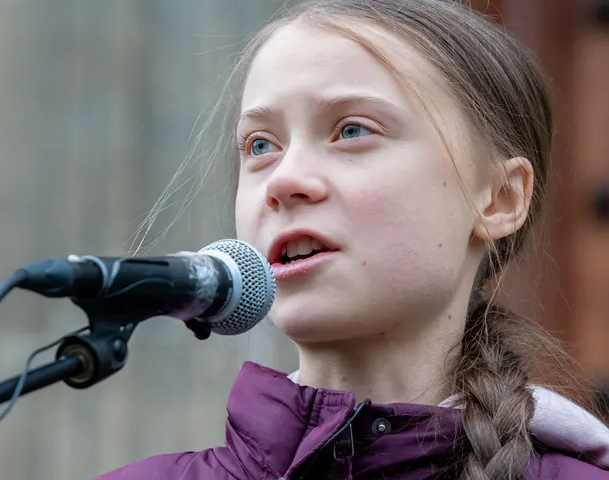 Thunberg, taking a stand helped with her depression and anxiety around climate change," Christine says. "We know that meeting problems head-on can help with depression and anxiety. Talk to kids about resilience and how to get through tough times.
Although as a parent, you cannot ever promise that things are going to be fine forever, you can best help your child by taking charge and reassuring them that "bad things happen, but I will be there for you and I will have a way, a plan, to help you and to help us cope in that situation." Additionally, "it's important when kids are feeling sad that we don't try to fix it right away for them," Christine says. "You can acknowledge it as disappointing and depressing. Talk about feelings before moving into strategies and coping plans. Later, you can ask what would help to make them feel better, like a special activity."
How to know if your information is accurate?
It is important to consider what media you consume and how you take in the information. "It's very different to hear the worst of the worst, maybe just on the daily news or watching daily television, compared to reading a more in-depth article that looks at the nuances of the situation and might also suggest what could be helpful or going well," says Dr. Ashley Miller.
For [general] 'what if' questions, it's OK to say you don't know. Instead, try to brainstorm and find trusted sources of information with them. Put kids on a path of answering their questions for themselves.
See the World Health Organization graphic below on how to find trusted sources of information: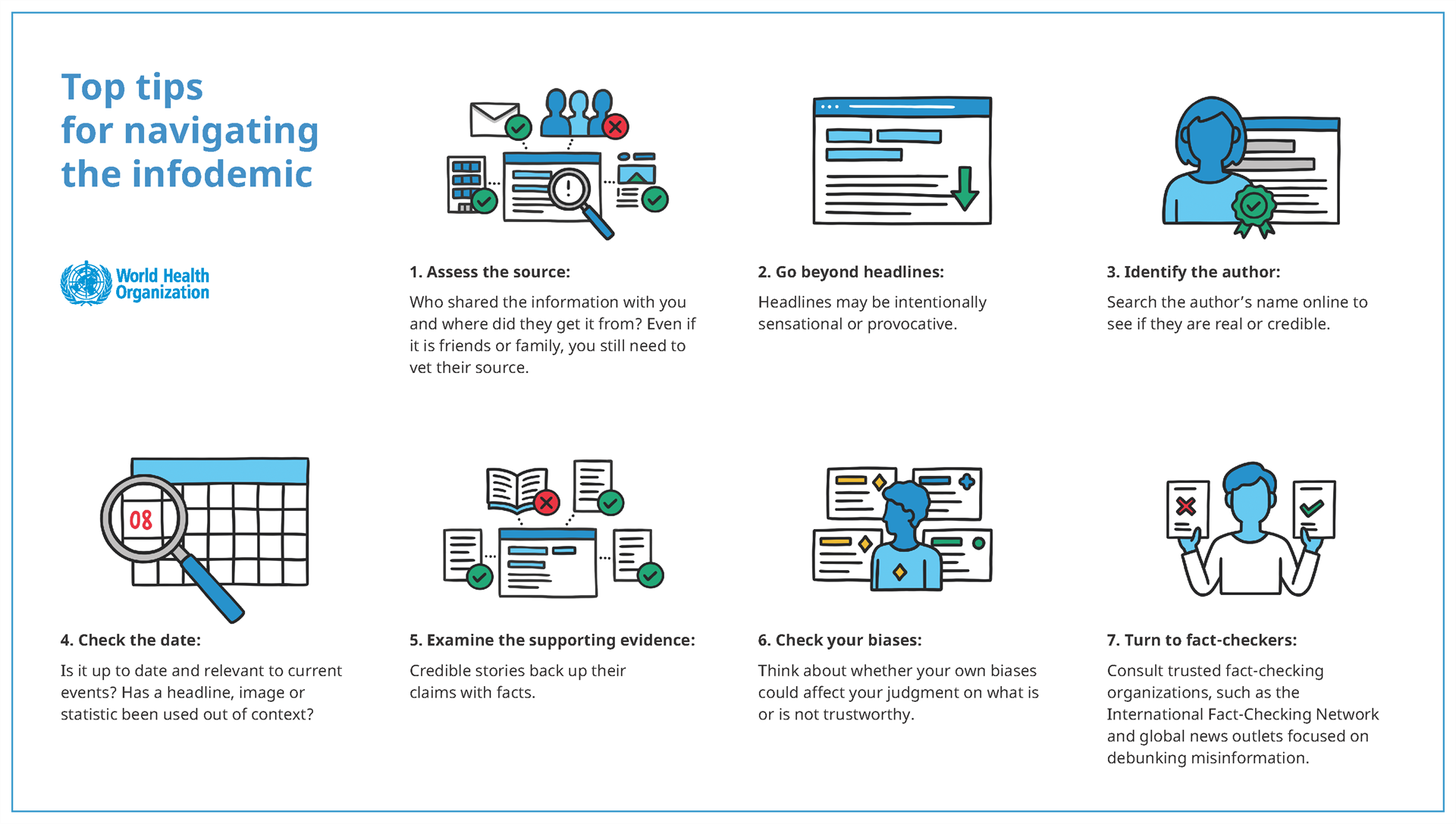 When to seek help?
When children are struggling and can't stop worrying, anxiety is affecting their sleep and their schoolwork, or they're sad and tearful all the time, it may be time to see a family doctor or psychologist and get an assessment to see if they may have an anxiety disorder.
It's important for kids to understand, there are climate change emergencies, and many things may seem out of their control. Reassure them with information around how they can prepare,  plan and take care of themselves.
Mental Health Resources
If you or your child has mental health concerns, resources include:
•  MyHEARTSMAP, a digital tool that will help families, children and youth self-assess their mental health needs;
•  The book Talking Back to OCD has principles that can be applied to different anxiety disorders;
•  The Breathr app for mindfulness and the Calm app; and
•  Kelty Mental Health, Foundry or Anxiety Canada websites can also help find assistance
Other Resources
Looking for material, check out these resources:
•  Where You Are - No Shortage of Questions: Talking With Your Child About Scary News and World Events
•  How to help your child cope with eco-anxiety by Mental Health Commission of Canada
•  How to Talk to Your Kids about Traumatic Events