We help families across the province navigate the mental health system, listen and offer peer support, and connect them to resources and tools.
Parenting During COVID-19
Parenting at any time can be challenging; parenting during COVID-19 can be even more stressful. In this section you will find tips for talking to children about COVID-19, strategies for supporting your child during COVID-19, and more.
Featured Resources
BC Children's Hospital
With COVID-19, life at home looks drastically different. Parents are wearing multiple hats and being pulled in 100 different directions, with many feeling stretched and overwhelmed. In this episode from the Kelty Centre's Where You Are podcast, Dr. Ashley Miller, BC Children's Hospital Psychiatrist and mother of two, shares steps families can take to manage stress and stay emotionally connected while living in close quarters. 
BC Children's Hospital
This special Kelty Centre Where You Are podcast episode is for school professionals. We bring together the voices and ideas of educators in rural and remote schools to share their learnings on how to support student and staff mental health and well-being.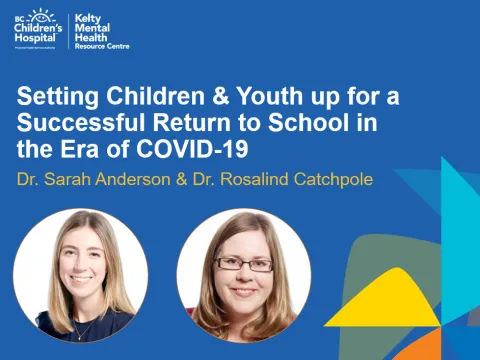 BC Children's Hospital
Going back to school is stressful for some children and youth – and this year, there may be even more anxiety and stress because of COVID-19. In this recording of our our webinar presentation, Dr. Rosalind Catchpole and Dr. Sarah Anderson from BC Children's Hospital go over practical tools and strategies you can use to set your family up for a successful return to school this year.
Stay Connected
Join our newsletter to get the latest on resources, news and upcoming events.