With an increased reliance on screens, it is important to have a healthy and balanced approach to technology use.  
Below you will find some key tips for balancing tech use. These tips will help you to fit tech use in around your family's interests and priorities. They'll also show you how to model healthy tech habits. 
Screen time and screen quality
As parents and caregivers we all know that screen time – the amount of time your child spends on screens - is important to consider when we talk about technology use.
But, just as important is the quality of the content your kids are watching and consuming. This can have as much of an impact on your child's mental health and well-being as the amount of time on screens.
Another way to think about 'healthy' vs. 'unhealthy' technology use is through this 'Tech Solution Plate' graphic, which breaks down technology use into:
'healthy' tech use (connecting, creating, self-care),
'junk' tech use (mindless scrolling), and
'toxic' tech use (bullying).
The goal is to maximize healthy tech use, limit junk tech, and stay away for toxic tech. This helpful resource was developed by Dr. Shimi Kang, a psychiatrist based in BC and known around the world for her research and expertise in technology use and kids.
If you are looking for more resources on healthy tech use, listen to our 'Keeping Tech in Check' podcast episode with Dr. Shimi Kang and her teenage son. It presents a great way to think about what type of technology children and youth are consuming and ways to promote healthy tech habits at home.
How to introduce and fit tech into your family's habits
The key to your family's mental health and wellness is working together to develop healthy habits:
Delay the introduction of screens. Before you introduce screens to a young child, there are first some key skills they should have, which include:

Emotional Regulation – Can your child feel and tell you about the range of emotions they have? Can they come off screens without melting down?
Time management – Can your child go from a fun activity to a daily task and know how much time they need to do it? (switching from playdough to brushing their teeth or snack time). 
To learn more about these skills and others, check out our 'Keeping Tech in Check' podcast episode with Dr. Shimi Kang, or read more in Dr. Kang's book.

Put family and life activities first, and then schedule in healthy tech time. Let your family know that the most important activities are those that keep you moving, stay connected with others, and help you to sleep and eat well (for example, family hikes, board game nights, eating a meal together, or calling a friend.) Schedule 'quality' tech time (time that has a clear purpose and limits) around these life activities.
Modeling healthy tech use for your child
If children see parents and caregivers using technology in healthy ways, it can influence habits they adopt. Here are some ways to model healthy tech use:
Reduce your own use of screen time when your child is with you.
When possible, interact with others in person rather than texting or Zooming. If you do need to use tech when your children are with you, try to have it be for a clear purpose (texting someone where to meet, adding a missed item to the grocery list). Let them know the reason you are using tech by saying it out loud.
Have everyone use technology in a common room at home that you've chosen for tech use. This gives you the chance to view something together or even just be curious and learn about their on-screen interests. Maybe have the family room be the place for tech use. Keep technology out of the bedrooms and other private spaces. Encourage tech-free zones including no devices at the table while eating.
Turn off or silence your devices when they are not in use and leave them on a charging station. Set them and forget them.
Featured Resources
BC Children's Hospital
This Where You Are podcast episode from the Kelty Centre helps families find better ways to guide their kids' technology use, and to avoid battles and negotiations around screen time, video games, and tech use at home. Dr. Shimi Kang, child and youth psychiatrist, and her teenage son Joesh, offer practical tips for families to develop or reset healthy tech habits at home.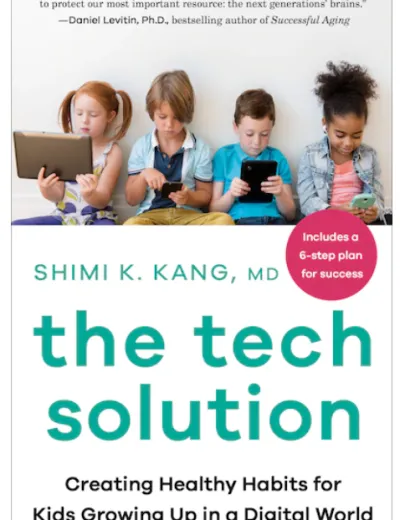 Dr. Shimi Kang
The Tech Solution is a to-the-point resource for parents and educators who want the best approach for raising kids in our digital world. It outlines all you need to know about the short-term and potential long-term consequences of tech use.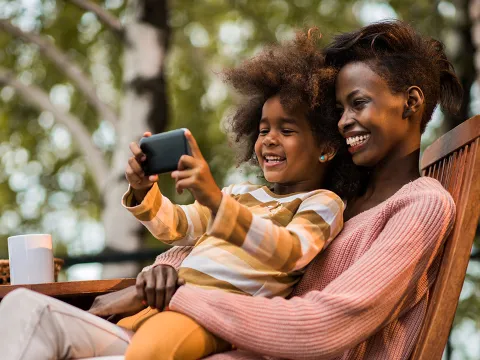 RaisingChildren.net
A website dedicated to support parents in developing healthy screen use habits in their children.