With all of the structured activities in a busy family life, getting enough outdoor play can be tough. The distractions of TV and computer screens can make it even harder.
Outdoor play is a great way to awaken the senses and feel refreshed as you explore the natural, boundless playground all around you. Even a few minutes of fresh air and sunshine can help to lift moods and get a dose of vitamin D.   
Encourage your child to play in the dirt, climb trees, go for a forest hike, and check out local ponds. Take every opportunity to get them active and in touch with nature.
Whether you're inventing games in the backyard, or taking a brisk walk to a nearby park, getting active outdoors can help to reduce symptoms of anxiety, depression, and stress levels.
Encourage free, unstructured time to play outdoors
Whether it's jumping into a pile of leaves or climbing a tree, children are often happiest when free playing outdoors.
When they roam outside, leaving the organized activities and schedules behind, children follow their  imagination and creativity to play, jump, catch, lift, and swing away from the distraction of screens.
Simple, unstructured play also helps develop movement skills, like balance and coordination.
The skills they gain from climbing structures, swinging from their arms, running and throwing balls, will help prepare them for participating in sports or group activities later on.
Play in natural spaces also has social and emotional benefits. It helps children to build confidence, solve problems, learn personal limits and responsibility, and develop the skills to get along with others.
Why free play brings children more rewards than risks  
Children have a natural instinct for outdoor play and adventure. 
While every parent wants their child to have fun, sometimes worry creeps in about their safety. You may find yourself telling your child to be "careful" every few steps as they explore the outdoors.
A helpful habit is to try and step back to see what your child is capable of doing outdoors, and pointing out important safety issues along the way.
Over time, allowing your child room to roam more freely will give them more confidence in their ability to understand their environment, better understand their bodies, and their skill level. They'll learn how to keep themselves safe and manage risks.
Be sure to join along and let your child lead you on their own outdoor adventures – it's the quality time together that counts!
Check out this great interactive tool for parents and caregivers on the Outside Play website to help you gain confidence and comfort to encourage your child's outdoor adventures.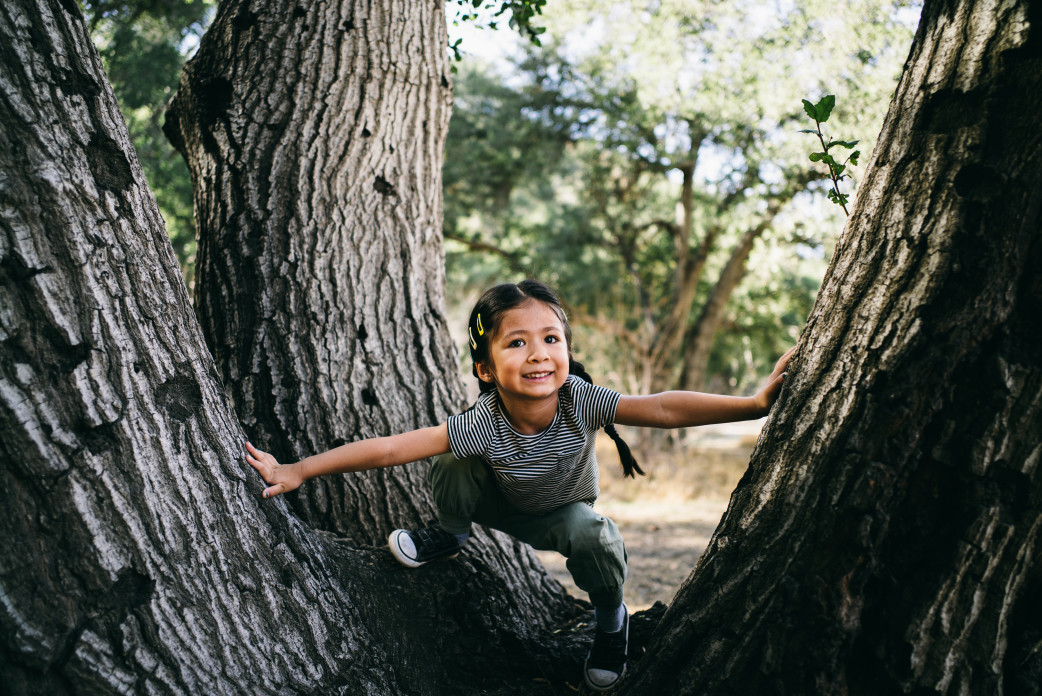 Enjoy the calming effects of nature
Connecting with nature often restores a sense of feeling calm, peace, and happiness. Taking in nature's sights and sounds becomes a soothing break from our overactive minds.
Listening to birds chirp on a walk, feeling the sun's warmth on our face as we swim or bike, picking up the scent of forest pine on a hike, anchors us in the present moment. 
Having your family spend more active time in nature can help reduce stress, and leave everyone feeling re-energized and more focused. It may help to reduce symptoms of anxiety and depression.
Be creative. You don't need to go far to a lake or mountain. Take your child on a plant or bug hunt in a nearby park or find the closest patch of trees.  
As you become curious about nature together, you'll all enjoy the natural boost to your mental health and well-being.
Since even viewing images of nature or listening to nature's sounds can help to relieve stress and improve well-being, try downloading a nature-inspired screen saver. Or bring the outdoors inside by adding houseplants or setting your child's desk near a window with a treed view. 
Inspiration for fun, family outdoor activities  
Here are some ideas to get you started:
Featured Resources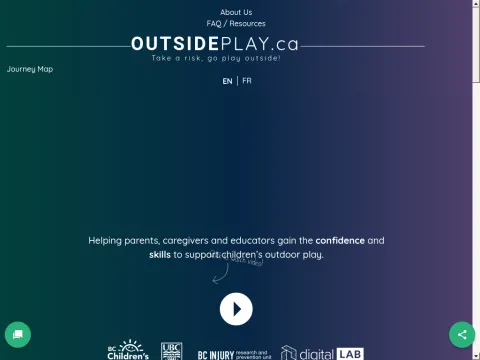 BC Children's Hospital/UBC/BCIRPU
Helping parents, caregivers, and educators gain the confidence and skills to support children's outdoor play.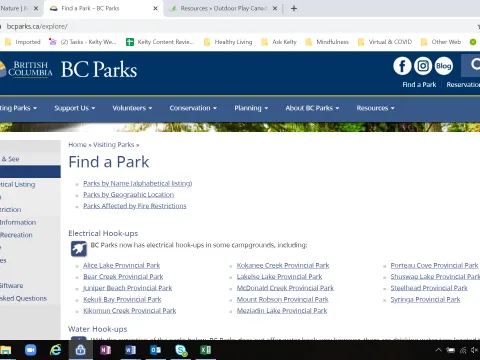 Province of British Columbia
Find a provincial park, plan your visit, and make camping reservations.