People have used substances to change their mood, thoughts or behaviours for thousands of years. A wide range of substances are used without problems, from coffee in the morning to a glass of wine with dinner. Substances that people use may be legal (caffeine), legal but regulated (morphine) or illegal (heroin). Just because a child or youth is using substances doesn't mean they have a substance use problem, but it is important to talk to them if you are concerned.
There is always some risk when using a substance. Even caffeine can be a problem if you drink too much. These risks are greater for anyone under the age of 25 because their minds and bodies are still developing.
Children and youth use many of the same substances as adults, for many of the same reasons. But some children and youth say they use substances for these reasons:
to forget their problems 
to perform better
to feel better
to experiment
they feel bored and don't know how to get "un-bored"
they have trouble relaxing around people their age
their friends use substances, and they want to feel like they belong in the group
they don't know of any other ways to deal with negative emotions like anxiety, grief or depression
Model healthy behaviour. Children and youth are most likely to use substances in the same way as adults in their lives.
Model healthy communication skills. Be a good listener and respect the child or youth's right to have an opinion. Don't lecture or exaggerate the harm from substances. Allow them to talk openly about their experiences.
Encourage healthier choices:
Encourage activities that make it harder to use drugs such as a sport or hobby that requires clear thinking and a healthy body.
Explain the dangers of driving after drinking or using substances.
Show how to turn down offers to use substances without feeling embarrassed. 
Teach what to do if something goes wrong. Suggest alternatives like asking you for a ride home from a party or taking a taxi home from a concert. 
Be open, loving and involved. A youth who feels loved will have more confidence. They will handle pressure better and be more able to overcome problems at home and school.
Handle problems responsibly. If your child comes home drunk or high:
Stay calm. Let everyone get some sleep before you have a big discussion.
Notice their condition. Try to find out what they have been using and how much. That way you can judge if they are in trouble or just need time to sober up.
Find out how they feel about the substance(s) they are using or have tried. Ask when, how often and with whom they have used substances. Get them to explain why they use substances or what benefits they are getting out of it. This will help you create a new bond and keep the lines of communication open.
Talk about your concerns. Explain how you feel and why you are worried about their substance use. 
Discuss healthier choices. Offer some ideas that have a different kind of rush or excitement like rock-climbing and mountain-biking. A fun goal to work toward may distract their attention away from substances. 
For information on substance use challenges and substances that are often misused please see the pages listed below. 
Substance Use Challenges
Substance Use Challenges
Just because a youth is using substances doesn't mean they have a substance use problem, but it is important to talk to them if you are concerned...
More
Concurrent Disorders
Concurrent disorders are mental illness and substance use problems that happen at the same time. 
More
Featured Resources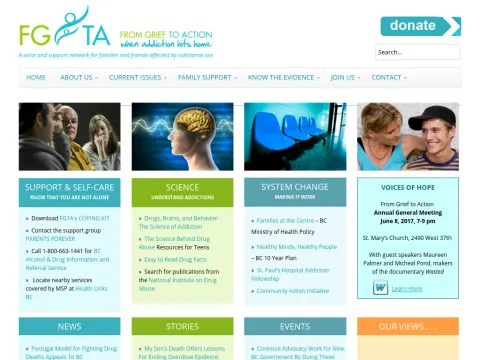 From Grief to Action
A website that provides information and coping toolkits on drug use problems, and offers support groups for parents in BC.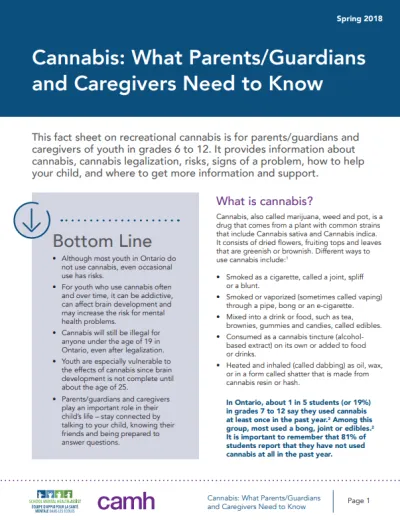 Centre for Addiction and Mental Health
This fact sheet is for parents and caregivers of youth in grades 6 to 12. It provides information about cannabis, legalization, risks, signs of a problem, how to help, and where to get more information and support.
BC Children's Hospital
In this Pinwheel, our panel will cover an overview of the opioid crisis (including dispelling misinformation), discuss how it is affecting youth, and talk about the take home naloxone program.