Why getting a good night's sleep is like a superpower for the whole family
Getting a good night's sleep may be one of the first things to fall off your radar given the competing demands of a busy family life. 
But sleeping well is a game changer for children and youth. It supports their mental and physical health, and allows young minds and bodies to develop and function properly.
Children who get a good night's sleep feel more energized during the day, tend to learn better, concentrate on tasks for longer, and be more creative. A well-rested mind is better able to make positive decisions, problem solve, and manage stress. Not only that, our bodies can get an immune system boost from regular, restful sleep that can ward off illness.
Few families get through childhood without some kind of bedtime or sleep disruptions. Building good family sleep habits early on can significantly reduce bedtime struggles for all.  
With a little patience and practice, you can adopt routines and habits that promote sleep, build better sleep schedules, and create soothing sleep environments for your child. 
Answers from Sleep Experts
At night, the brain naturally produces melatonin, a hormone that helps you sleep. The glow from electronic screens can confuse the brain and stop that process - the blue light actually tricks the body into thinking it's daytime.
Children and youth using these devices at night get so much stimulation, their minds keep turning, preventing them from feeling tired.
Powering down devices early in the evening will help your child wind down and enjoy a better sleep. Read more tips for managing screen time at bedtime.
Myths Busted
Reality: Ever wonder why teenagers tend to stay up late and sleep in on weekends? Young people experience changes to their natural sleep cycle as they age, usually with the onset of puberty.
Teenager's biological clocks naturally shift (hardwired) towards staying up later and waking up later. Although their bedtime may shift to later, it's still important to keep to a regular sleep and wake time.
Featured Resources
BC Children's Hospital
Over 70 percent of Canadian children are not getting the sleep they need. Are you one of those families? In this episode from the Kelty Centre's Where You Are podcast, listen to Andrea Bell (parent) and Dr. Smita Naidoo (child and adolescent psychiatrist) explore sleep strategies and science that can help kids and teens sleep well to enhance mental wellness. ​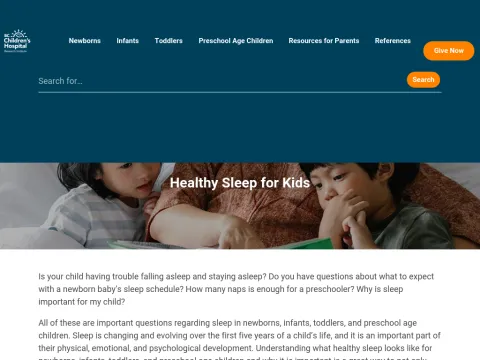 BC Children's Hospital Research Institute
Learn what healthy sleep looks like for newborns, infants, toddlers, and preschool age children. It looks different at different times of early childhood development. There are also resources for parents.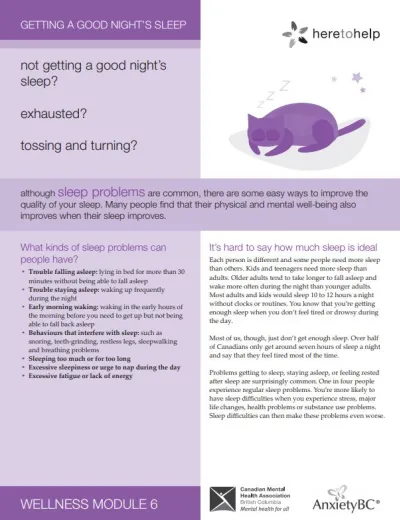 Here to Help
Free downloadable sleep resource with top sleep hygiene tips for adolescents and young adults. Information on the link between sleep and mental health.