The practice of mindfulness has recently received significant attention in the media for its usefulness in promoting social and emotional well-being and contributing to the ability to manage difficult or stressful situations. Mindfulness is all about encouraging awareness of oneself in the present moment, without judgment. Examples of mindfulness practices include body scans, guided breathing meditations, and other simple exercises, which can help us to refocus on the present and calm our minds. 
While initial studies on mindfulness focused primarily on adults, practicing mindfulness has benefits for children and youth too. The beauty of mindfulness is that it is flexible and accessible. It can be practiced in many different ways, and can be done at almost any time. For those who have truly embraced mindfulness, it becomes more than just a part of a routine – it becomes a way of life.
The Health Literacy team at BC Children's Hospital, along with a number of different experts and youth, developed "Breathr" – a new app to help introduce the concept of mindfulness and create an easy access point for those who are new to this practice.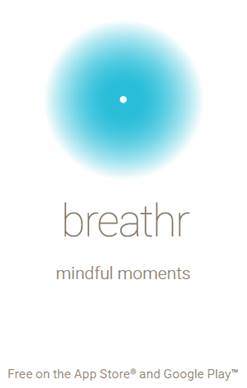 The app provides opportunities for users to try out a variety of mindfulness practices, while also teaching them interesting facts about the brain science behind those practices. For example, did you know that regularly practicing mindfulness can improve your relationships with others? Or that it has been shown to change parts of the brain that affect memory, empathy and stress?
Our aim is to show youth that mindfulness can be fun, easy to try, and that it can have very real benefits for their overall health and well-being. 
Please note: Mindfulness can be beneficial for people who have trauma related disorders. However, practicing mindfulness exercises may cause some people to re-experience traumatic memories. Guidance by a skilled mindfulness instructor is recommended. 
*Please note that those with the newest iOS version may be experiencing technical difficulties accessing our Breathr app. We are aware of this issue and are in the process of revamping to a new and improved Breathr app!    

We apologize for the inconvenience. If you have any input or feedback on the upcoming Breathr app, let us know!