The BC Children's Kelty Mental Health Resource Centre supports BC school communities in a number of ways, including:
Acting as a contact point for school professionals looking for information and resources to support a student they may be concerned about.
Providing resources to school professionals to provide to parents and caregivers of a student.
Providing evidence-based mental health literacy and social emotional learning resources, information, and tools to school professionals across BC.
Connecting school communities with other mental health and wellness programs in BC (for example, the Kelty Centre and the BC Children's Health Promotion Team worked with rural and remote schools to help connect them with resource and tools to support the mental health and wellness of students and staff in their community – learn more here: keltymentalhealth.ca/RuralRemote)
Our approach to supporting schools is aligned with the BC Ministry of Education's Mental Health in Schools Strategy. This Strategy underscores the consensus that a focus on mental health literacy and social emotional learning, as well as trauma-informed practice, is an effective way to promote students' positive mental health. For more information and training on trauma-informed practice for school professionals, visit mytrainingbc.ca/traumainformedpractice.
Mental Health & Well-being in Schools: A Model for B.C. School Communities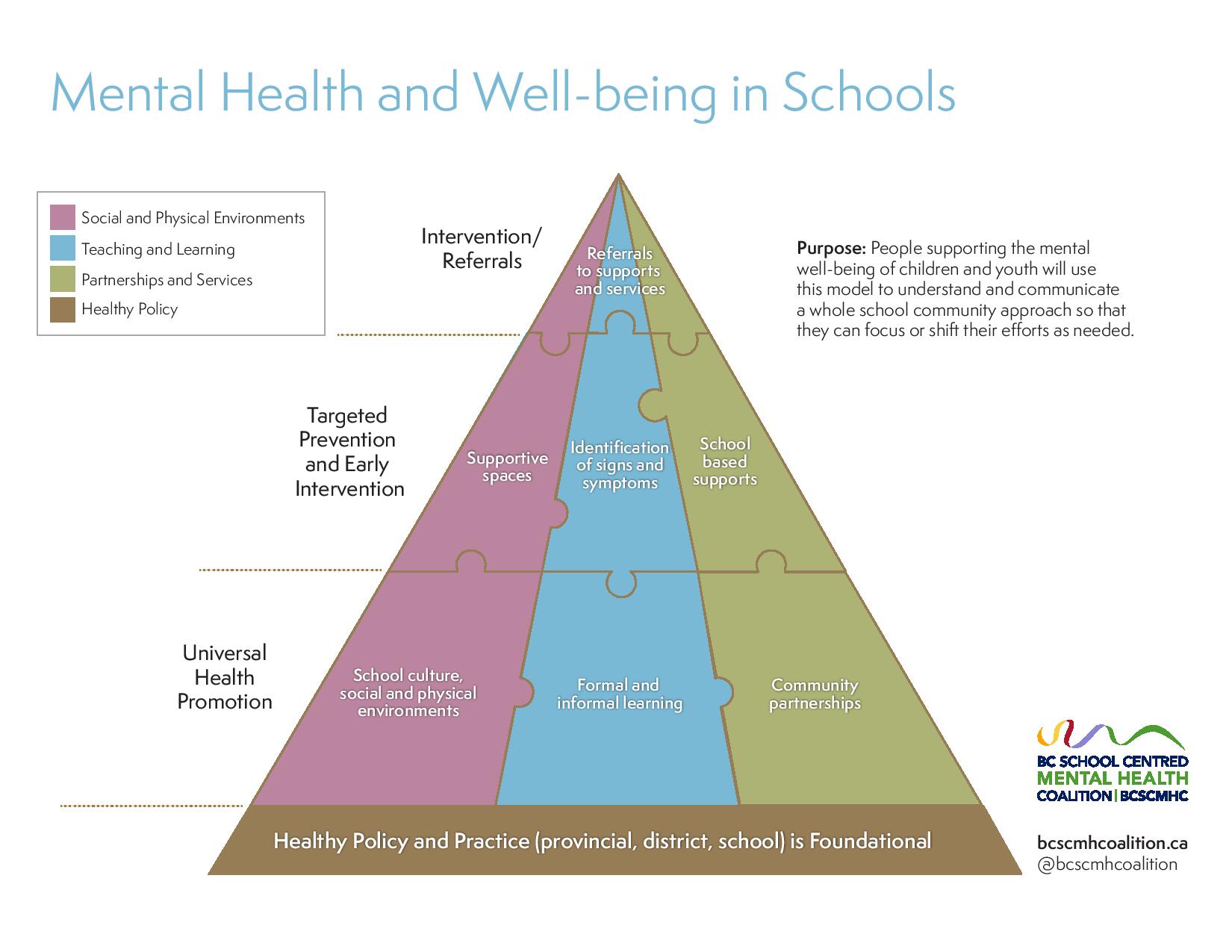 This model shows the various components of mental health and well-being in school communities. It was collaboratively developed by a working group of the BC School Centred Mental Health Coalition, which includes partners from health, education, government and school communities across BC. The model can be used to situate and contextualize efforts to support mental health and well-being and show how they fit together to support all students. It can be used as a tool to identify different efforts and practices currently in place while also looking at the bigger picture. 
The BC Children's Health Literacy Team used this model when working with rural and remote school communities to help identify what was currently happening and any areas for further development (you can find more information about this project here). If you would like more information about using this model in your school community, please contact keltycentre@cw.bc.ca.