Social and Emotional Learning (SEL) is a critical component to the healthy development of children. It impacts how children understand and manage emotions, set and achieve goals, show empathy for others, maintain positive relationships, and make responsible decisions. For more on these key SEL competencies, visit the CASEL website.
Decades of research shows that social emotional learning leads to improvements in students' social and emotional skills, attitudes, relationships, prosocial behaviour, and academic performance. School communities and professionals play a critical role in helping support children's social and emotional development. In this section, you will find key tools and resources to support social emotional learning in your school community.
Tools to Support Social Emotional Learning in Schools
Additional Social Emotional Learning Resources
BC Children's Hospital
Social and Emotional Learning (SEL) is a hot topic in schools and parent communities right now. In this episode from the Kelty Centre's Where You Are podcast, Gail Markin (parent, school counsellor and District SEL Lead) and Dr. Kimberly Schonert-Reichl (Psychologist, Professor and world renowned SEL expert) unpack what parents and caregivers can do to support SEL at home, as well as learn about the role of schools in promoting SEL.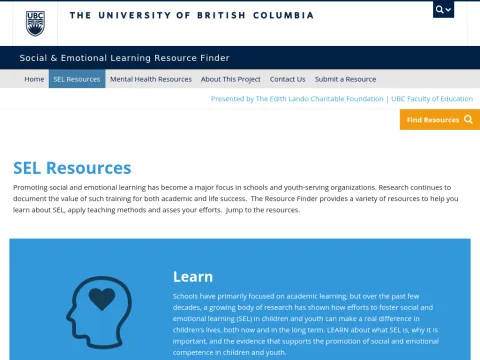 University of British Columbia
The Resource Finder provides a variety of resources to help school professionals learn about social and emotional learning, apply teaching methods and asses their efforts.
BC Children's Hospital
This special Kelty Centre Where You Are podcast episode is for school professionals. We bring together the voices and ideas of educators in rural and remote schools to share their learnings on how to support student and staff mental health and well-being.