Blog
Curbing the impacts of social isolation on children
BC Children's Hospital Communications Team | August 20, 2020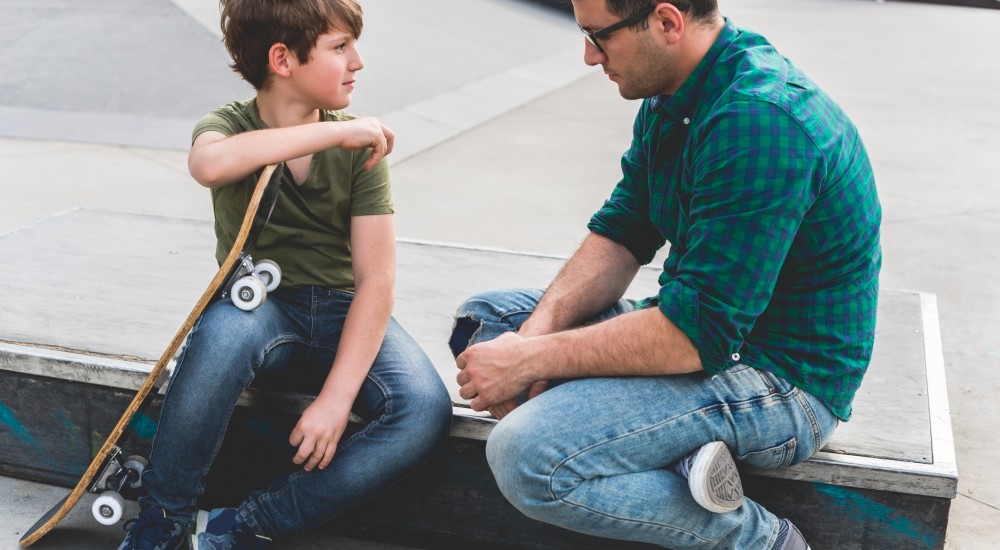 While many children have coped well, enjoying more quality time with family, others have suffered from loss of routine, loss of typical support services, fewer social opportunities with peers and/or greater family stress.  
BC Children's psychiatrist Dr. Ashley Miller says some children and teens who have been away from their peers for months can be at a higher risk for anxiety and depression. 
"Social interaction is even more vital for kids and teens than adults because it affects their brain development," says Miller. 
"Adults need to strengthen their resolve to follow public health orders so that BC can continue its Restart Plan and kids can resume the activities that are essential for their health as safely as possible."
The longer some kids are out of school/activities, the more anxious and avoidant they may become.
Anxiety in children can surface as more tantrums, clinginess, physical complaints, refusals and distracted behaviour. Teens may appear more irritable, argumentative or tired/withdrawn.
In addition, regular unsupervised screen time that's meant to keep kids busy can result in exposure to inappropriate content or online exploitation. 
"Even eating patterns can change," says Miller. "We are all trying to make ourselves feel better, so isolation can lead to self-soothing with food, substances or screen-time that can have negative health consequences during this time of crisis."
Domestic violence and abuse may increase as caregivers feel heightened stress through the pandemic.
Adverse Childhood Experiences research shows high chronic stress and exposure to negative life events can lead to long term mental and physical consequences, including more heart disease, diabetes and obesity in adulthood. Fortunately, some of these negative effects may be lessened during the pandemic by nurturing relationships with caring adults.
What can parents do? 
"The first thing we can all do is follow public health guidelines to the best of our abilities," says Miller. "It is a real struggle for parents to have to weigh risks when sending their kids back to school, so of course the lower the overall risk of COVID-19 transmission in the community, the more confidence parents can have to allow their children to attend school and see their friends."
"If we end up needing to isolate again, we can still mitigate adverse outcomes for our children by ensuring they continue to have a sense of belonging in their families and communities," says Miller. "Some new research is showing that the effects of social isolation may be lessened by the shared experience of knowing that 'we are all in this together.' Getting kids and teens focussed on helping others and contributing to a safer school or community environment may help decrease anxiety."
Caregivers should reach out for the support they need to lower their own stress levels. 
"It's hard to project confidence when dealing with our own doubts. There is no perfect decision, yet we can consult health-care providers, talk to school administrators and follow Dr. Bonnie Henry's guidance."
To prepare kids for the reopening of schools in September, caregivers can share the school's plans and protocols as they become available, since kids and teens also want to understand the practical steps to take. 
Parents can provide the opportunity for kids to talk openly about their fears and acknowledge them as valid.  For more anxious or cautious kids, caregivers can gradually get them used to the school environment by taking them to the school grounds and/or encouraging connection with a likely classmate ahead of time.  
Set the stage for a successful return to school
"We can all prioritize social-emotional adjustment and recognize the high stress being felt by parents, teachers and students," says Miller. "All of us who interact with children need to treat each other with compassion and respect during this transition time, recognizing we may all have different levels of risk tolerance and different personal circumstances."
On a practical level, parents can maintain routines and structure that include as much of the child's usual social network as possible, whether at a safe physical distance or online. It helps to start the regular bedtime and wake up routine at least a full week before school starts. 
And if the first day or days of school are challenging, parents and caregivers can really help kids by staying the course. Most kids will adjust well, even after this long pause, when parents offer "kind firmness" and are consistent with the routines and expectations. 
While there are many things we can't control right now, we do have the opportunity to set the stage for a successful return to school for our kids and teens.
---
For more information on schools and childcare during COVID-19, please visit the BCCDC website.
For more information on managing back-to-school anxiety for youth and parents, visit Anxiety Canada.