Blog
We Can Do Something About Bias
Darci Rosalie, RN, BScN (she/her/hers), Indigenous Cultural Safety Educator, C&W Indigenous Health | October 14, 2022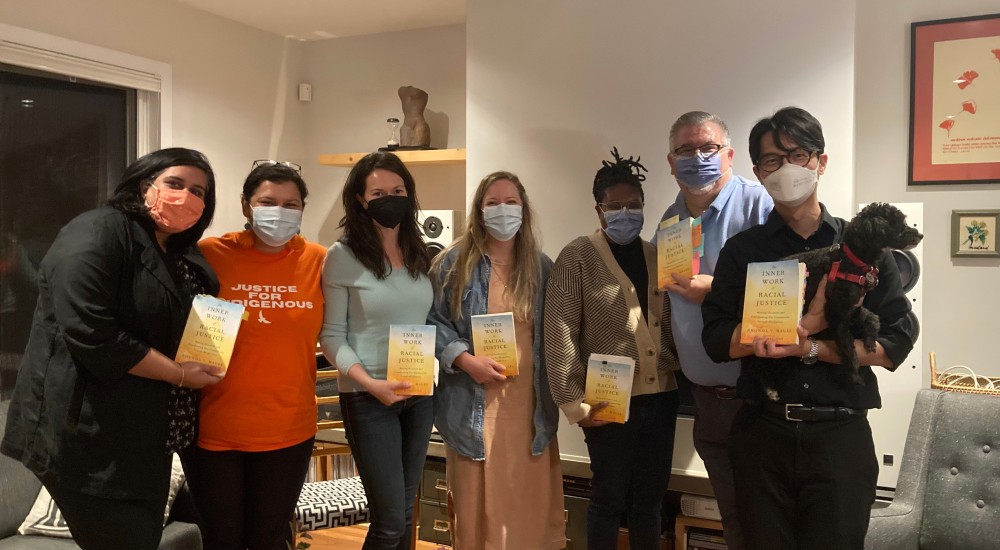 The Inner Work of Racial Justice: Healing Ourselves and Transforming Our Communities Through Mindfulness
About the author:
Rhonda V. Magee is a professor of law at the University of San Francisco, she uses her training in sociology and mindfulness-based stress reduction to illuminate racial injustices and facilitate healing. She facilitates this work by encouraging inner reflection and creating opportunities for people to have conversations about race in safe settings with loving compassion and honesty.  
Rhonda's book offers insights on race theory, bias, culture and new ways of perceiving justice by creating a warm and safe space of truth to reflect and reconnect through her teachings and stories.  
When the BC Children's Hospital Centre for Mindfulness invited our Indigenous Health Team and the Pediatrics Department Hudson Scholars for Equity Diversity and Inclusion to team up to host a book club, I did not make an immediate connection of how attending a fun book club with a few colleagues could be a powerful action for racial justice, although, the title was a pretty big hint! I imagined the format for our meeting would follow a typical book club style where we would discuss each chapter and share insights. This book club turned out to have some gentle yet powerful differences. Dr. Dzung Vo and Dr. Tatiana Sotindjo led reflective dialogues to warm up the mind, with the majority of our time centred on guided mindfulness practice.
The space created felt validating so that we could all be present to create connections and a mindful community on a subject that engaged everyone in the circle. In her book, Rhonda Magee defines justice as "love in action for the alleviation of suffering." I resonate with this definition of justice. By putting love into action, we are creating supportive and powerful ripples to transform the environments in which we exist, to places of healing. At this book club, we are coming from the health care system and it is clear we share a desire to find a way forward that supports more love, action and healing within that environment.
As I read and understood Rhonda's words, I found myself drawn to deeper insights to what I had been experiencing in my own life related to my racial identity as a white woman. I have been working in a racialized program within BC Women's and Children's Hospitals for 5 years now. I came into racial justice work by simply wanting to help address systemic barriers and improve health outcomes for Indigenous families who I knew were suffering as a result of the colonial legacy of harm we all share. I did not specifically know I was signing up for racial justice work when I applied, this was a humbling and stumbling process of realization as the work unveiled itself through what actions were needed to support the families and communities we served.  
Before having the opportunity to work within the Indigenous Health Program at BCCW, I did not truly understand or even recognize how my racial identity was a factor in the way I showed up in my daily work. In my previous 15 years of work as a Registered Nurse, I did not wake up in the morning thinking about my race, or, how my white racial identity influences my job, community or how I am perceived in therapeutic relationships. Now I do. It is through my gentle and deep reflective practice I continue to open my awareness and embrace the necessary unlearning in order to take effective action towards disrupting and ultimately ending systemic racism.
To stand in solidarity with my Indigenous colleagues and state "I am a white settler" or I am "racialized white" starts me on a path to understand manifest experiences of oppression and ones of privilege. I am becoming race literate, and I still have a long humbling way to go as I continue to dissolve the systemic racism programmed along my journey. Rhonda proclaims "We can do something about bias!" and I wholeheartedly agree. She refers to an Ubuntu practice in her work where she calls people to witness each other to create a safer community, "I see you," she says to everyone.  Much of the Indigenous circle work I have been invited to participate in includes similar yet distinctive witnessing practices. My own meditation practice also practices this type of acknowledgement, in saying hello in a deep and present way. 
This book club is an example of how to create a mindful community across BC Children's Hospital. It is about taking action in one's work to walk the path of healing. We practice together with mindful listening and self-focus. We examine our biases and come from a place of love to address real harms from racial discrimination that exist within healthcare, through self reflection and tending to one's own wounds in a validating environment. 
The ripples of our work did indeed reach Rhonda Magee on social media to where she gave a heartfelt shout out to our group as we embodied her amazing teachings. Our work was also reflected in the warm and encouraging words of BCCH Leader Trish Page in validation that our Leaders are cheering for the changes we are promoting. 
Going forward, I envision for there to be a range of safe spaces to speak about systemic racism and racial justice. This book club is one way of helping to create a movement of respectful and safe action to address the changes we would like to see within the work we do.