The BC Children's Kelty Mental Health Resource Centre has trained youth peer support workers through a collaboration with FamilySmart® a provincial organization of trained young adults with lived experience of mental health challenges called Youth in Residence (YiRs). 
Wherever you are in your own journey - whether you have never accessed services but are struggling with your mental health, or you are currently receiving services and you want to talk to someone who has been through something similar - our youth peer support workers (YiRs) are here for you.
Who are our Youth Peer Support Workers, and what do they offer? 
There are two youth peer support workers (YiRs)who work at the Kelty Centre. The YiRs offer compassionate, non-judgmental peer support to youth and young adults, as well as their families. 
The YiRs can provide:
peer support, which involves listening to and understanding what you are going through, and supporting you through your struggles

help navigating the mental health care system and finding resources and services in your community and across the province

access to information, resources and tools for you
Meet the FamilySmart Youth in Residence at the Kelty Centre: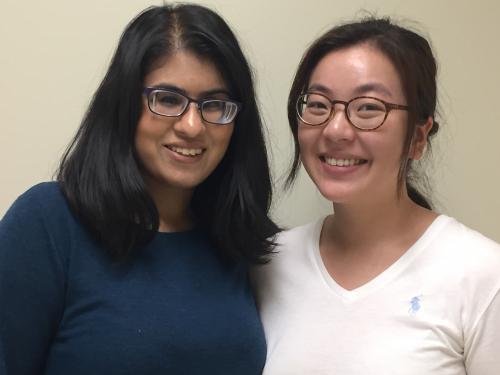 Jasmine (left) is a recent graduate from the University of Victoria, with a Bachelor of Arts degree in Psychology. Her own lived and living experience with PTSD and Depression inspired her to work in the mental health field. Her journey within the system began when she was eight years old as a result of experiencing trauma from a young age and intergenerational trauma within her family. From her experiences, she is now able to help others by providing peer support, sharing what resources helped her during her lowest points, and being living proof that you can and will get through whatever you may be dealing with.
Veronica (right) started working at the Kelty Centre in July 2017. In previous years, some of the things she has done include teaching English in South Korea at a rural elementary school; living and working in South Africa to pursue her interests in social entrepreneurship and mentorship within the non-profit sector; and participating in various global youth summits in which she had the opportunity to provide recommendations for the economic advancement of girls and women to the G20 leaders. Diagnosed with bipolar disorder when she was eighteen years old, her lived experience with mental illness has been the greatest driver of her determination to carve her own path in life and to thrive despite the challenges. She has learned that she is stronger and more resilient than her mental illness. She feels incredibly humbled and privileged to have the opportunity to help children, youth and families who are struggling with mental health challenges reach that conclusion themselves in the work she does as a Youth in Residence at the Kelty Mental Health Resource Centre.
How to connect with a Youth in Residence at the Kelty Centre:
Phone: 604-875-2084 or toll-free from anywhere in BC: 1-800-665-1822
Email: keltycentre@cw.bc.ca
In Person: BC Children's Hospital, Healthy Minds Centre, 4500 Oak Street, Vancouver, BC, Room P3-302 (3rd Floor)
We are open Monday - Friday, 9:30am - 5pm