July 2019 Newsletter
Our Vision
Mindful Community, Compassionate Care
Our Mission
The BC Children's Hospital Centre for Mindfulness aspires to support mindfulness practice, including clinical and educational programs, health professional development, and research. The Centre serves as a hub to connect, support, and grow mindfulness activities for children, youth, families and caregivers, and health professionals. The Centre also aspires to nurture a "mindful culture" throughout the hospital community, the province of British Columbia, and beyond.
Core Team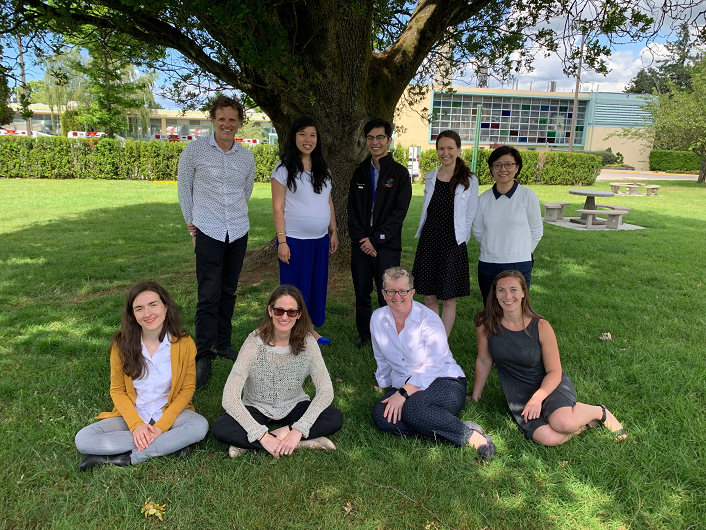 Top row, left to right: Andrew Tugwell, Charlene Black, Dr. Dzung Vo, Amy Obetkoff, Frances Tong
Bottom row, left to right: Dr. Katarina Tabi, Dr. Joanna McDermid, Dr. Jana Davidson, Kaleigh McLeod
Welcome to the Centre for Mindfulness Community!

By: Dzung X. Vo, MD, FSAHM, FAAP
Director, BC Children's Hospital Centre for Mindfulness
Head, Division of Adolescent Health and Medicine, Department of Pediatrics
Clinical Associate Professor, UBC
Welcome to the new BC Children's Hospital Centre for Mindfulness! Our vision is mindful community, compassionate care. We at the Centre for Mindfulness hope to connect, support, and grow the wisdom and talent of individuals and teams who have been bringing the transformative and healing practice of mindfulness to BC Children's Hospital over the years.
According to Dr. Jon Kabat-Zinn, one of the pioneers in bringing mindfulness to Western medicine, mindfulness means "Paying attention in a particular way: On purpose, in the present moment, and nonjudgmentally." It could also be described as the practice of attending to the present moment with unconditional love: staying present as best we can even in the difficult moments, and turning towards the suffering of ourselves and others with compassion and care. My own personal and clinical experience, as well as the explosion in clinical research in mindfulness, attests to the power of this simple yet challenging practice in helping to handle stress and pain, and strengthen compassion and joy in life and work.
My first immersion into mindfulness was on a three-week retreat with Zen Master Thich Nhat Hanh in 1999, just before I entered medical school. Those three weeks turned out to be some of the most formative moments I have had in my development both as a human being, and as a pediatrician. What I learned from Thich Nhat Hanh is that if I don't know how to practice mindfulness and compassion for myself, I will not be able to offer it to anyone else. In this spirit, the Centre for Minfulness has three aspirations to offer mindfulness to the children and youth that we serve, to their families and caregivers, as well as to ourselves and our colleagues as mindful health professionals.
In 2013, Thich Nhat Hanh was speaking at a panel at Harvard Medical School with Dr. Kabat-Zinn. Kabat-Zinn asked, "Now that mindfulness is mainstream, what are we still missing?" Thich Nhat Hanh answered, simply, "Community." Mindfulness, wellness, and healing are not individual affairs. Imagine the power of collective mindfulness at BC Children's Hospital. Imagine what a mindful pediatric hospital could look like! Together, we aspire to co-create this mindful hospital community, which will enrich the compassionate care that we can offer to our patients and caregivers, as well as to ourselves and to each other.
The Centre for Mindfulness can be a game changer for BC Children's Hospital and beyond. The BC Children's Centre for Mindfulness is one of the first of its kind at an academic pediatric health care centre. I believe it can grow into a model and a beacon, inspiring a wave of mindfulness and compassion in pediatric health care throughout BC, Canada, and beyond.
I'd like to thank our Centre for Mindfulness Core Team and Executive Committee, Centre for Mindfulness Council, and all of talented people who have planted the seeds for mindfulness at BC Children's over the years. I am also especially grateful to our donors and the BC Children's Hospital Foundation for making this possible. The birth of the Centre for Mindfulness has been years in the making, and a dream-coming-true for me personally. I'm delighted to be walking with you on this next step of our mindful journey, together.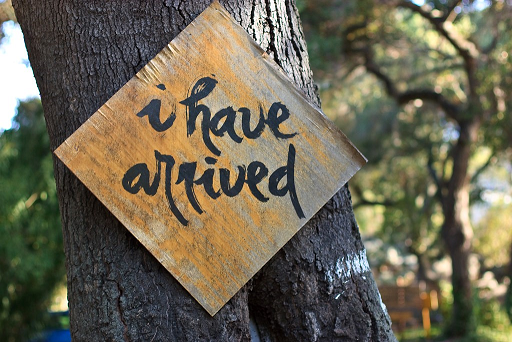 ---
Dr. Garland - The Roots of Mindfulness Practice at BC Children's Hospital
By: Ashley Miller, MDCM, FRCPC
Child and Adolescent Psychiatrist, Mood and Anxiety Disorders Clinic and Teaching Clinic,  BC Children's Hospital
Member, BC Children's Hospital Centre for Mindfulness Council
Clinical Assistant Professor, University of British Columbia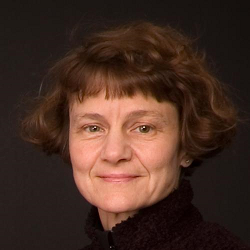 About 10 years ago, Dr. Garland was the keynote presenter at BC Children's Hospital Mental Health Education Day. She led the audience through a guided meditation. It was the first time most of us had experienced a formal meditation practice in the hospital setting. It awakened many of us to the power of stillness and the breath. She closed her address with the fable about "stone soup"- a story wherein each community member brings what little they have to share until, finally, the community as a whole has created a wonderful meal.
Dr. Garland practiced meditation and mindfulness in different forms, such as yoga and martial arts, from a young age. She developed a deep whirling practice and connections with inter-faith and spiritual communities both locally and abroad. Dr. Garland co-created the Taming Worry Dragons  (TWD) program with Dr. Sandra Clark to help children with anxiety and their parents. A beautiful, mindfulness-infused program, it continues to capture the imagination of children and provide a wonderful tool for clinicians throughout the province of BC and beyond. As the research evidence for clinical mindfulness-based interventions solidified, Dr. Garland crafted both Mindfulness Based Cognitive Therapy: A Coping Skills Group for Teens with Anxiety, and TWD's Mindfulness Based Parent Training for Parents of Anxious Children. Her first groups ran in the fall of 2012. Many students and colleagues co-facilitated with her and now continue to run mindfulness-based groups and programs. Since her retirement in 2017, she has continued to mentor mindful-parenting group facilitators and nurture meditation projects in her networks and community. She continues to serve as Clinical Professor Emeritus at UBC, and continues to inspire and support mindfulness at BC Children's as a founding member of the Centre for Mindfulness Council.
During her clinical time at BC Children's, Dr. Garland always demonstrated mindfulness in action through the real-life bustle of hospital practice. Whether pausing for a breathing space between patients, offering a cup of tea, mindful walking down the hallway to greet patients or attending to her plants, she showed us how to create peace and spaciousness. In her day to day work with patients and colleagues, Dr. Garland practiced appreciative inquiry. Despite our field's frequent emphasis on illness and diagnosis, Dr. Garland's approach was always to find "what's right with you." She exemplified core values such as non-judgment, compassion, right speech and right action.  Whenever extra chairs were needed around a conference table, Dr. Garland carried them.   Whenever a difficult situation split opinions or spurned tensions around that table, Dr. Garland soothed them. Perhaps more than anything, Dr. Garland's attuned and compassionate presence, whether in large forums or one to one, continues to generate resilience and optimism in all of us. When Dr. Garland gave her keynote address, 10 years ago, she may not have realized that she had just brought the very first ingredient to the soup. We are very grateful to Dr. Garland for helping to found this burgeoning community, our very own BC Children's Centre for Mindfulness.
Mindfulness for Health Professionals: Building Community and Resilience Together

By: Joanna McDermid, MD, FRCPC
Associate Director, BC Children's Hospital Centre for Mindfulness
Consulting Psychiatrist BC Children's Hospital
Clinical Instructor, UBC
Much of medical training is spent acquiring expertise so that we may offer good care to our patients. We learn to quickly identify patterns of illness and to create treatment plans, but we are often much less practiced in paying attention to ourselves. When we do pay attention to ourselves, it's often not with the same care or compassion that we offer to others. In health care, we are encouraged to honor the "person" in our patients, but we may not have learned to notice the human in ourselves.
Dr. Ron Epstein, a leading expert in mindfulness and medicine, first highlighted mindfulness as one of the characteristics of exemplary clinical work in his 1999 article, "Mindful Practice".  Building on this foundation, Dr. Epstein and his colleague, Dr. Mick Krasner, then went on to develop the Mindful Practice® program for health professionals. This is a program related to quality of care, quality of caring and clinician well-being. My first workshop with Dr. Epstein and his team was a transformative experience–through the use of mindfulness meditation, narrative medicine and appreciative inquiry-based conversations, we shared our stories and built a platform upon which we could explore our resilience and learn how to thrive.
Everyday mindfulness or awareness can be very beneficial. For example, pausing by coming back to the breath and body, almost like "slowing down to speed up".  I try to embed touchstones in my day, by creating and maintaining nourishing routines, or by finding ways to reduce stress during intense periods of activity.
The idea of being "mindful" in our "practice" is useful not only in our professional lives, but can also apply to our personal lives, relationships and families. No matter what our job or role is, we can help create the environment or culture that upholds our deepest values, and what is most sacred to us. We know that connection and healing happen in communities, so let's continue to build this collective resilience, thriving together.
Mindfulness for Caregivers
By: Dr. Jake Locke 
Clinical Professor - UBC/BCCH Psychiatry
"Mindfulness and meditation are really helpful in life". Even though we think this is true, we need to prove it. Our new Centre for Mindfulness here at BC Children's Hospital will enable us to produce more empiric research evidence to do just that. I am grateful and acknowledge the many colleagues (particularly Jane Garland and Dzung Vo) and many patients who have influenced my personal and professional journey in mindful living.
There have been so many times that I've wished that life wasn't so stressful and difficult. Meditation and mindfulness have been helpful with this seemingly universal complaint by encouraging me to be more accepting and helping me to be more in the present moment rather than ruminating about the past or worrying about the future. It has also helped me to calm down and freak out less often.
Working with adolescents and adults has highlighted other benefits of mindfulness. For instance, parents have described how they are much less reactive and are now more responsive when dealing with domestic and parenting difficulties. Teens have recognized that resistance to pain (physical and/or psychological) often results in more suffering and mindfulness strategies reduce that resistance. We've explored the concepts of loving kindness, compassion, self-care and the roots of consciousness. Mindful eating, driving and increased engagement in relationships have been major foci.
I've been involved in years of mindfulness research involving MARS-A with Dzung as well as other MARS adaptations for adult mindfulness groups. My current research involves Mindfulness for Dads of Newborns which I have been co-facilitating with my son, Brad. Needless to say, this is pretty exciting for me. 
Our new Centre for Mindfulness is going to be a tremendous resource for our community. I think it's going to help make our world a little bit better.
Mindfulness for Young People
By: Dzung X. Vo, MD, FSAHM, FAAP
Director, BC Children's Hospital Centre for Mindfulness
Head, Division of Adolescent Health and Medicine, Department of Pediatrics
Clinical Associate Professor, UBC
Teaching mindfulness to adolescents is one of the most rewarding aspects of my job as an adolescent medicine specialist. There were three "lightbulb moments," or key experiences, that gave rise to my work in this area. The first was when I began to develop my own personal mindfulness practice, just before I started medical school. Mindfulness became a concrete practice and a way of living that helped me to survive and cope with the stress that is part of the human experience, as well as the emotional and physical demands of my medical training. The second experience was during my training as an adolescent medicine specialist. Through mentors such as Dr. Kenneth Ginsburg, I learned that most of the "adolescent risk behaviors" that contribute to adolescent health problems, such as substance use, suicidality, self-harm, and disordered eating, come from the young peoples' attempts to cope with stress. As an adult who cares for adolescents, I could see that simply telling adolescents to stop doing those behaviors was not effective. I came to see that a key part of my job is understanding and validating adolescents' distress, and then guiding them towards healthier ways of coping with stress. I began to ask myself, "Since mindfulness is helping me so much in my own life to cope with my own stress, could it also be helpful for the adolescents that I work with?"
The seeds were planted, but I was still waiting for one more key ingredient to help me make this vision a reality. In the late 2000's, before mindfulness was "a thing" in mainstream Western culture and medicine, I didn't know if or how mindfulness could be applied in a clinical context with adolescents. In 2008, I took a Mindfulness-Based Stress Reduction (MBSR) course as a participant, and I saw how the basic mindfulness practices in the course were the same practices that I had been using in my own life. I also saw how Jon Kabat-Zinn and colleagues had skillfully adapted these ancient practices to directly address health, pain, and stress that we all experience in modern life. This experience gave me the confidence to begin adapting mindfulness for teens.
At the time, there were only a handful of people that I was aware of who were piloting mindfulness programs with teens. There had been a general assumption that teens are not mature enough, or open minded enough, to "get" something like mindfulness. When I arrived at BC Children's Hospital in 2010, I was fortunate to start collaborating with Dr. Jake Locke, and meet other pioneers in this area including Dr. Jane Garland. Over the next few years Dr. Locke and I developed MARS-A, Mindful Awareness and Resilience Skills for Adolescents, for adolescents suffering from psychological distress, chronic pain, and/or chronic illness. MARS-A has been a tremendous success clinically, and has become a model for adolescent health colleagues in other pediatric health centers. Research on MARS-A is early, but promising. As a clinician, this experience has shown me that not only can teens "get" something like mindfulness, but their open-mindedness and creativity in applying mindfulness to their own lives inspires and teaches me every time!
But, don't take it from me. Hear the voices of mindful teens for yourself, from the below video for the 2018 PHSA+ award, and from this interview with a mindful teen on CBC radio.
"I approach the stressful situations with a lot of compassion toward myself, and being able to realize that how I'm feeling is valid. The [thoughts] that go through my head and the emotions are just that — they're just thoughts and emotions... They don't have power over me and it's been a lot easier to see my struggles as not a part of me — but just something that might last temporarily [and] it will pass at some point." – A mindful teen
Research News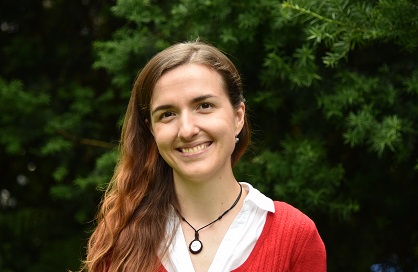 By: Katarina Tabi, PharmD
Research Coordinator
Centre for Mindfulness, BC Children's Hospital
Department of Psychiatry, The University of British Columbia
In this section of our newsletter we will share exciting news and updates from the research world, as well as new evidence related to mindfulness practice.
Mindfulness and acceptance training supports social connection
Increasing amount of evidence highlights the importance of quality relationships and their effect on health and longevity. Both health and government bodies speak about loneliness and social isolation as growing public health concern. But what shall we do to actively support this area of our lives and how to increase social connections on the ongoing basis?
Lindsay et al. conducted a study to see if training in mindful attention (defined as skills to monitor present-moment experiences), both with and without instructions to adopt an accepting attitude towards experience, helps to reduce feelings of loneliness and increase the frequency of social interactions.
Participants (N=153) were randomly assigned to one of three groups: (1) Monitoring + Acceptance group - received training in present moment awareness plus training in accepting experience with openness, receptivity, and equanimity; (2) Monitoring Only group - received training in present moment awareness without training in acceptance; and (3) Coping control group - received instruction on how to reflect on, analyze, and solve problems. Participants in all groups watched 14 lessons (each 20 mins long) delivered via smartphone over 2 weeks. The content of the lessons depended on which of the three groups they were assigned to.
Monitoring + Acceptance training reduced daily-life loneliness by 22% and increased social contact by two more interactions each day and one more person each day, compared with both Monitoring Only and Coping control trainings.
Take home message:
The study results suggest that mindfulness can decrease daily ratings of loneliness and increase daily social interactions, but only when acceptance training is included in the intervention - the present moment awareness alone is not sufficient to reduce loneliness. The authors speculate that mindful acceptance diminishes the perception of social threat, allowing people to lower their internal barriers to social engagement.
Reference:
Lindsay, E. K., Young, S., Brown, K. W., Smyth, J. M., & Creswell, J. D. (2019).Mindfulness training reduces and increases social contact in a randomized controlled trial. Proceedings of the National Academy of Sciences, 116(9), 3488-3493.
Mindful parenting program affects parenting style and child weight gain
Children growing up in low-income, high-stress families are at increased risk for obesity. Also, the highly stressed parents are more likely to use parenting styles that are less warm, less involved and more punitive.
This study aimed to explore whether a mindful parenting program that aims to improve parental non-judgemental attention to moment-to-moment parent-child interactions might actually improve the parental style and reduce the risk for obesity in their preschool-aged children.
42 highly stressed low-income parents were randomly split into two groups: (1) 8-week Parenting Mindfully for Health (PMH) program; and (2) educational control group. Parents from both groups attended 8 weekly 2-hour sessions. Both groups received education on nutrition and physical activity. The PMH group spent the remaining time with activities similar to Mindfulness-Based Stress Reduction (MBSR) and focused on mindful eating and mindful parenting. The control group spent the remaining time watching nature videos. Interactions between parent-child were observed during a "Toy Wait Test".
After the program, the PMH parents spent more time interacting with their child to help them tolerate waiting for the toy and remained more involved. Also, they showed increased positive parental affect, warmth and engagement, and control parents did not. Both groups of parents ate healthier diets after intervention, but only the PMH parents significantly decreased their eating in response to emotional upset. There were no changes in parental mindfulness, stress, BMI, or physical activity in either group.
Take home message:
The study shows that the mindful parenting program effectively improved positive parenting style and slowed weight gain in their preschool children over the course of 8 weeks. However, given that PMH parents reported no significant changes in mindfulness or stress, the mechanisms of action remain unknown. Didactic aspects of the program involving mindful parenting and eating may have played a role in the observed effects.
Reference:
Jastreboff, A. M., Chaplin, T. M., Finnie, S., Savoye, M., Stults-Kolehmainen, M., Silverman, W. K., & Sinha, R. (2018). Preventing childhood obesity through a mindfulness-based parent stress intervention. The Journal of Pediatrics, 202, 136-142.
Brief daily meditation enhances mood in newbie meditators, but it takes more than 4 weeks
There is a lot of evidence demonstrating the benefits of meditation on memory, attention, mood, and emotional regulation. However, there is still an ongoing effort to quantify what is the "minimum effective dosage".
This study measured the benefits of meditation in a group of meditation-naive participants over the course of 8 weeks. They assigned them to either (1) daily 13-minute guided meditations - including awareness of breath and body scan practice; or (2) control group - listening to daily 13-minute podcasts. Participants were assessed at baseline, 4 weeks and 8 weeks.
Take home message:
The results showed that 8 weeks of daily brief meditation measurably improved mood, anxiety in response to stress, and aspects of attention and memory in new meditators. However, it also showed that 4 weeks of the practice were not sufficient to yield results. This suggests that meditative effects are cumulative and only emerge with repeated practice over time.
Reference:
Basso, J. C., McHale, A., Ende, V., Oberlin, D. J., & Suzuki, W. A. (2019). Brief, daily meditation enhances attention, memory, mood, and emotional regulation in non-experienced meditators. Behavioural Brain Research, 356, 208-220.