November 18, 2019, 12:30pm – 1:30pm | Kelty Centre , Webinar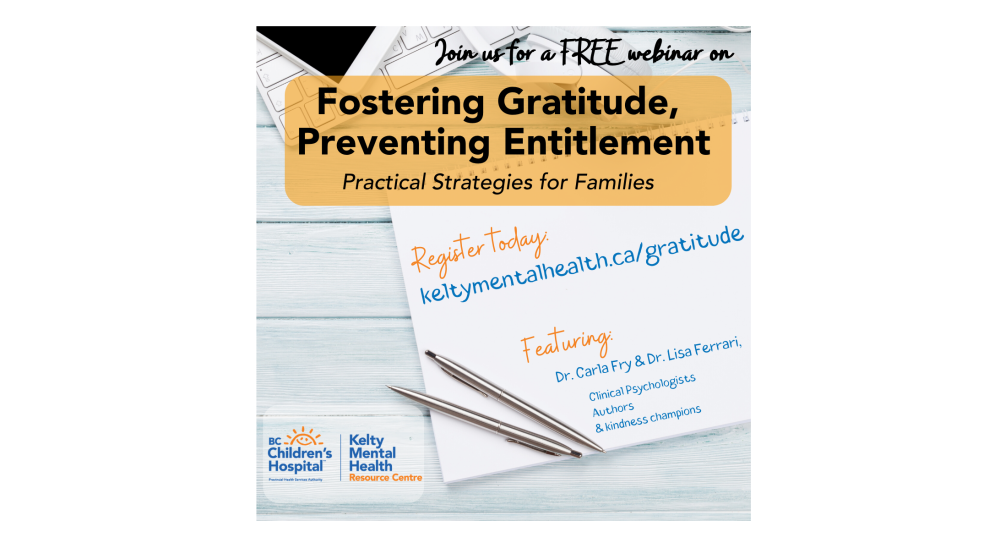 In this webinar, Dr. Lisa Ferrari and Dr. Carla Fry delve into how parents can enrich their children's lives by making gratitude and kindness real to them, and how to prevent your children from becoming entitled. Based on the latest in science and psychological research, they will explore why gratitude and kindness are so important, where entitlement comes from, and how to prevent it within your children and family. Walk away with practical skills you can start using right now. 
Drs. Lisa Ferrari and Carla Fry are Clinical Psychologists, co-authors of the book Gratitude and Kindness: A Modern Parents Guide to Raising Children in and Era or Entitlement (2015), and co-directors of a busy child and family-centered psychology clinic in Vancouver. They speak locally and nationally to print, radio and television media to connect families with scientifically proven facts in a user-friendly fashion to help children and families to maximize their happiness and resilience.  
 
---
*Having trouble joining the Webinar? See these additional instructions and how-to guides here.