Events
9th Annual E-Mental Health Conference - Caring in a Digital World: Introducing Disruptive Change to Mental Health Care
March 5-6, 2020
8:00am – 5:00pm
Online webinar, Vancouver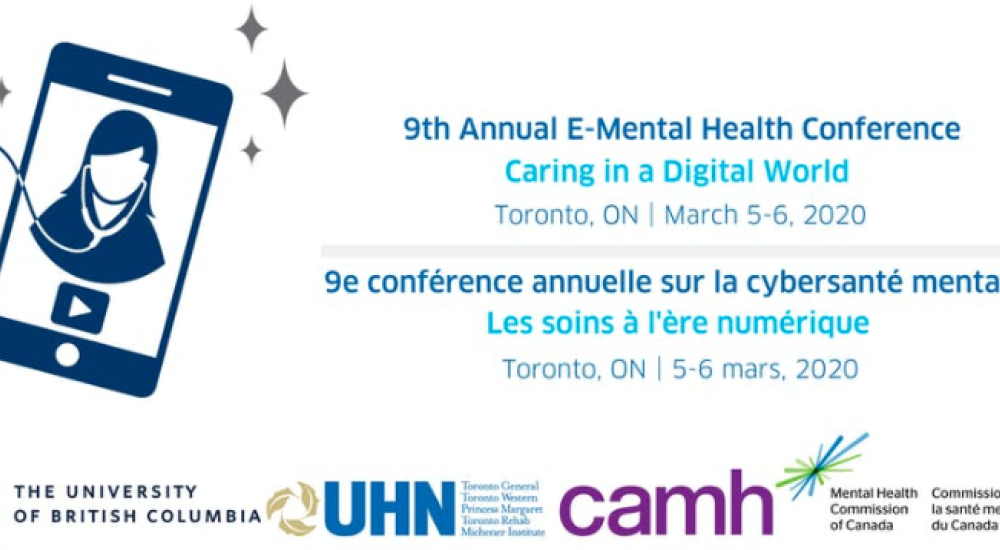 This event is in collaboration with the the University of British Columbia (UBC), the Centre for Addiction and Mental Health (CAMH), University Health Network (UHN), and the Mental Health Commission of Canada (MHCC).
Program at a Glance
Thursday, March 5th
8:00 Registration Opens
9:00-12:00 Concurrent Workshops:
Engaging Youth As Active Agents of Change For Mental Health Care
Building Capacity for E-Mental Health: An Introduction Implementation Workshop
12:00-12:45 Lunch and Networking
12:45-3:45 Concurrent Workshops
If You Build It, Will They Change? Implementing Mobile Apps To Achieve Clinical Results
Will My E-Mental Health Interventions Be Effective? A Practical Guide to Evaluation, Rapid Assessment and Awesome Analytics
4:00-4:30 Conference Welcome
4:30-5:30 Keynote Speaker #1, John Torous (Boston) The future of virtual mental health care - The North American Experience
Friday, March 6th
7:30-8:30 Registration
8:30-8:40 Welcome Day 2
8:40-9:10 Session 1: Is Change Coming?
9:10-10:10 Session 2: Evolving Learning and Practice for E-Mental Health
10:10-10:30 Health Break and Poster Session
10:30-11:30 Session 3: Changing the System One Disruptive Technology at a Time
11:30-12:30 Lunch and Networking
12:30-1:30 Session 4: Addressing the Need for Disruptive Change for Better Care
1:30-2:30 Who is Going to Change the World? A panel of young researchers.
2:30-2:50 Health Break and Poster Session
2:50-3:50 Keynote Speaker #2, Ian Hickie (Sydney) The future of virtual mental health care - The Australian Experience
3:50-4:00 Closing Remarks