October 4-5, 2019, 9:00am – 4:00pm | Wosk Auditorium, Jewish Community Centre of Greater Vancouver, Vancouver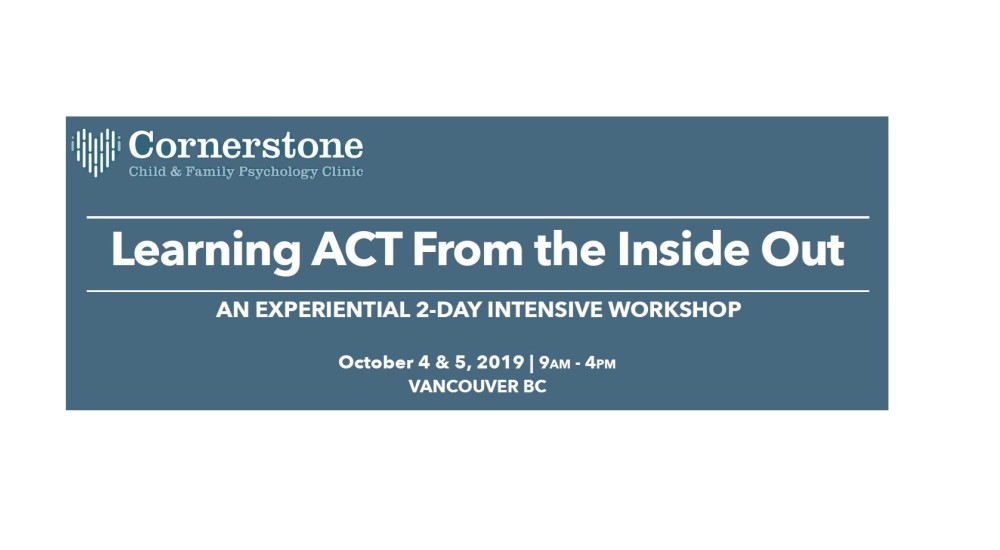 The Cornerstone Child and Family Psychology Clinic is hosting a 2-day intensive workshop on Acceptance and Commitment Therapy.
This highly experiential workshop will provide mental health professionals with immediate, practical skills they can integrate into their work with adolescents, adults, and families in a variety of clinical settings. Acceptance and Commitment Therapy (ACT) is an emerging cognitive behavior therapy, based upon unique philosophical and theoretical foundations in which the therapeutic target is psychological and behavioral flexibility in the presence of distressing or uncomfortable thoughts, emotions, and urges. The stance of mindfulness and acceptance is used to reduce the power these thoughts and feelings hold over clients, and supports individuals and families to take their life in a direction that matters to them. Dr. Turrell is dedicated to providing jargon free, user-friendly workshops that give clinicians the skills they need to start incorporating ACT into their work right away! Participants will be guided through the ACT Matrix as a context in which to understand and practice assessment, formulation, and treatment. While there will be some didactic presentation of theory and therapeutic processes, participants will learn the model mostly "from the inside out" using role-play and real-play.
 
Learning Objectives:
Identify the basics of the ACT Matrix and understand the six core processes of ACT from the inside out
Explain the concept of creative hopelessness as it relates to our patients and ourselves
Appreciate the role of experiential avoidance in anxiety disorders and other mental health struggles
Develop a beginning sense of mindfulness and how to use this with clients
Help clients identify their own personal values and incorporate this information into the therapeutic work
Apply the ACT processes to individual, group, and family work
Arrange ACT-informed exposures for clients with anxiety and OCD
Understand the evidence base for ACT