Mar 22 – Apr 12, 9:00am – 4:00pm | Surrey School Board Office, Surrey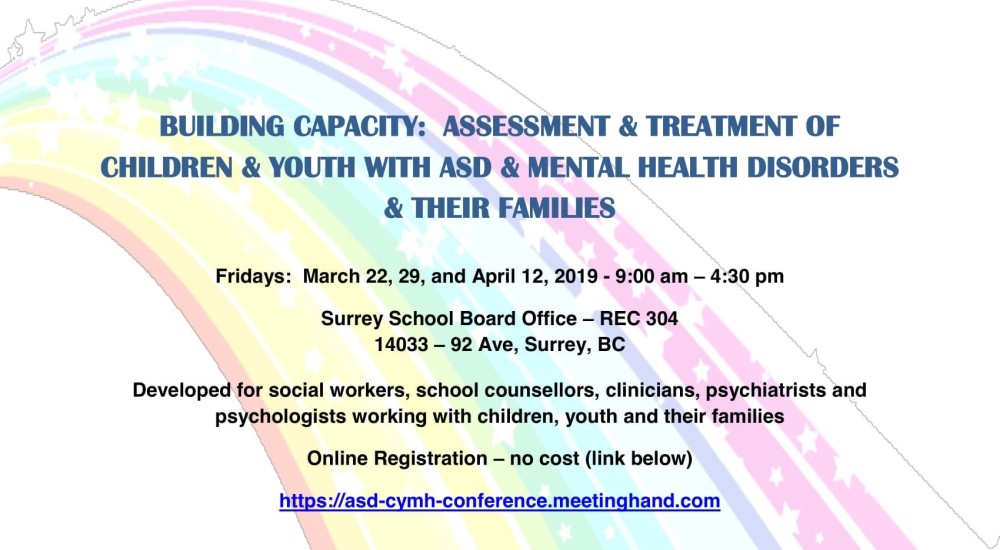 Developed for social workers, school counsellors, clinicians, psychiatrists and psychologists working with children, youth and their families!
Register for FREE on Friday, March 22, 29, and April 12, 2019 from 9:00 am–4:30 pm! 

Goals of this training include:
Increase competency in assessment of mental health issues with clients presenting with Autism Spectrum Disorder (including how to distinguish between core ASD and other mental health symptoms, and gender/sex differences).
Learn to conceptualize clinical factors and develop an effective treatment plan.  
Increase competency in, and understanding of, providing evidence based treatment for children, youth and their families with autism and mental health disorders (including implementing adapted CBT, awareness of appropriate medications, and family involvement in treatment).
Any further questions please call Bonnie Zargari at 604 586 2962 or email Bonnie.Zargari@gov,bc.ca