Blog
Reflections on the Centre for Mindfulness Launch Event
Kaleigh McLeod & Amy Obetkoff | September 30, 2019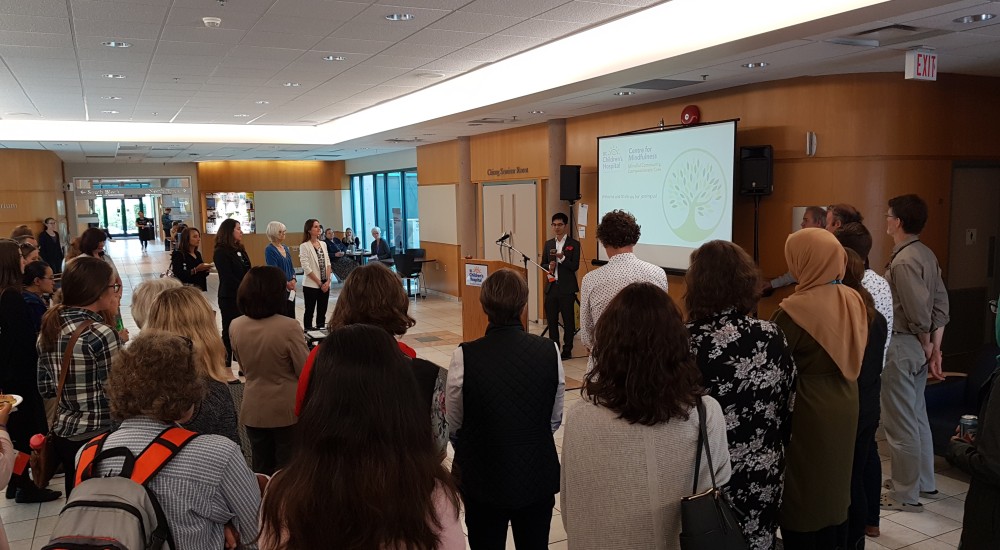 The BC Children's Centre For Mindfulness officially celebrated its launch on June 24th 2019.  The event, held in the Chan Centre Atrium was attended by over 60 staff from across the campus, as well as community members. Short presentations by the Centre directors, representatives from the BC Children's Hospital Foundation, representatives from Psychology and Leadership were followed by mingling and connecting. A highlight for many was a group mindfulness exercise which participants said helped bring connection to the group and ground the event in a common practice.
"The BC Children's Centre for Mindfulness is one of the first-of-its-kind at an academic pediatric health care centre. The recent launch of the Centre was a ground-breaking event. I am confident that the Centre for Mindfulness will bolster our intention to support, connect and grow the most mindful and compassionate community possible," said Dr. Joanna McDermid, associate director of BC Children's Hospital Centre for Mindfulness.
"At the launch of the BC Children's Hospital Centre for Mindfulness, I had a sense of history-in-the-making. Together, we embodied our vision of mindful community, which I know will bear fruit with compassionate care. Getting to this moment has been years in the making. Today was just a start, and I am looking forward to co-creating mindful practice with our hospital community in the years to come!" said Dr. Dzung Vo, head of the division of adolescent health and medicine.
The Centre for Mindfulness, thanks to funding from BC Children's Hospital Foundation, will include programs for children, youth, families, BC Children's staff and trainees, and more, as well as online and virtual resources.