Blog
Compassion in Conflict
Paul Irving, Project Coordinator | May 9, 2017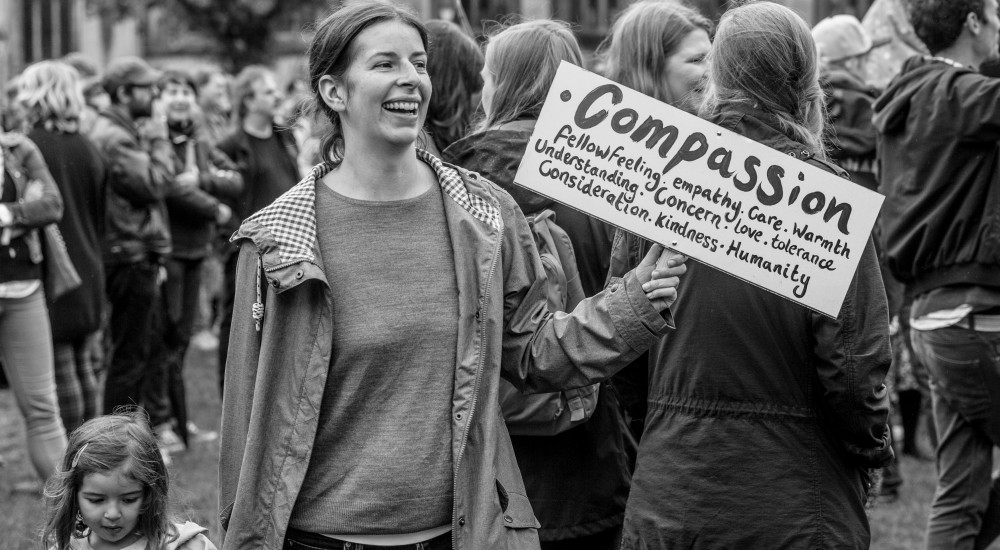 A few years ago I got my introduction to mindfulness: an 8-week Mindfulness-Based Stress Reduction course. It's safe to say it changed my life. It not only gave me practical ways to cope with my anxiety and depression, but it also provided me with a new perspective on life. Beyond the formal practices – such as guided meditations – I learned even more from applying the core principles of mindfulness to my everyday life.  Presence, awareness, non-judgement, compassion – I made a conscious effort to bring these principles into my day-to-day activity.
Like most things, this is probably easier said than done. So to start 2017, I signed up for a mindfulness program at work and in my spare time to refresh my skills and continue learning more. I quickly realized how rusty I was and how much more I had to learn. I don't know why this came as a surprise – like any other skill mindfulness requires continuous practice and learning to improve – so I was pretty happy when I signed up.
And after some reflection on both courses, I wanted to share the greatest challenge mindfulness has given me so far: showing compassion in moments of conflict.
If you ever take a mindfulness course, you'll quickly learn how central compassion is to the practice. Not only self-compassion and compassion for the people you love, but compassion for all people in your life. This includes people you may be mad, angry or upset with. That last part never resonated with me, and to be honest, I never took it seriously. I didn't think people I was clashing with deserved my compassion. I was angry at them! It felt like taking the ultimate high road – like apologizing to someone who wronged you. It seemed like I was doing them a favour, instead of something that would benefit me. And boy, was I wrong.  
It became my personal challenge when I started my new course. Being compassionate towards the people I love was easy, but it became a lot harder in moments of conflict. So I started small. Instead of jumping into full-fledged compassion, I started by considering their point of view. It's hard to be genuinely compassionate when you don't understand someone else's side of the story. So every time conflict arrived, I stopped and asked a few questions:
Why are they really upset?
How would I feel if I was on the other end of this conflict?
What other factors, besides me, might be at play here?
Would I be as frustrated if I were in their shoes?
Those are just some examples, and I'm sure you could come up with more questions depending on the situation. And each time I did this, the answers really opened my eyes. I quickly realized how one-sided I had been viewing most conflicts in my life. I learned that the most of the time people weren't frustrated with me, but instead a shared difficulty we both had a stake in. I realized how often I would be equally frustrated if I were in their position. When those points became clear, I realized how counterproductive it was to take every conflict so personally. Most of the time, these were difficult situations with two very reasonable sides to the story. It doesn't have to be someone's fault – we're just two (or more), frustrated individuals, trying to find some common ground.
Compassion came quite naturally when I made an effort to understand the other side of the story. I became a better problem solver because of it. I became less fixated on why this person had a problem with me, and more focused on why there was a conflict in the first place and what I can do to solve it. I stopped taking conflict so personally, because most of the time it wasn't about me. It's just a tough situation – for both sides – and recognizing that relieved a lot of the negative thoughts and feelings that often accompany interpersonal conflicts.  
After a while, I realized showing compassion in times like that was more beneficial for me than it was for the other person.
You don't even have to practice mindfulness to practice compassion in times of conflict (I recommend you do try mindfulness, but that's a post for another time!). It may seem difficult at first, but after some practice, I'm sure you'll see the benefits too. Start by viewing the conflict from the other person's perspective. Then try to show genuine compassion for that point of view.
It certainly helped me. I hope it can help you too.
If you're interested in learning more about mindfulness, check out the mindfulness section of the Kelty site.