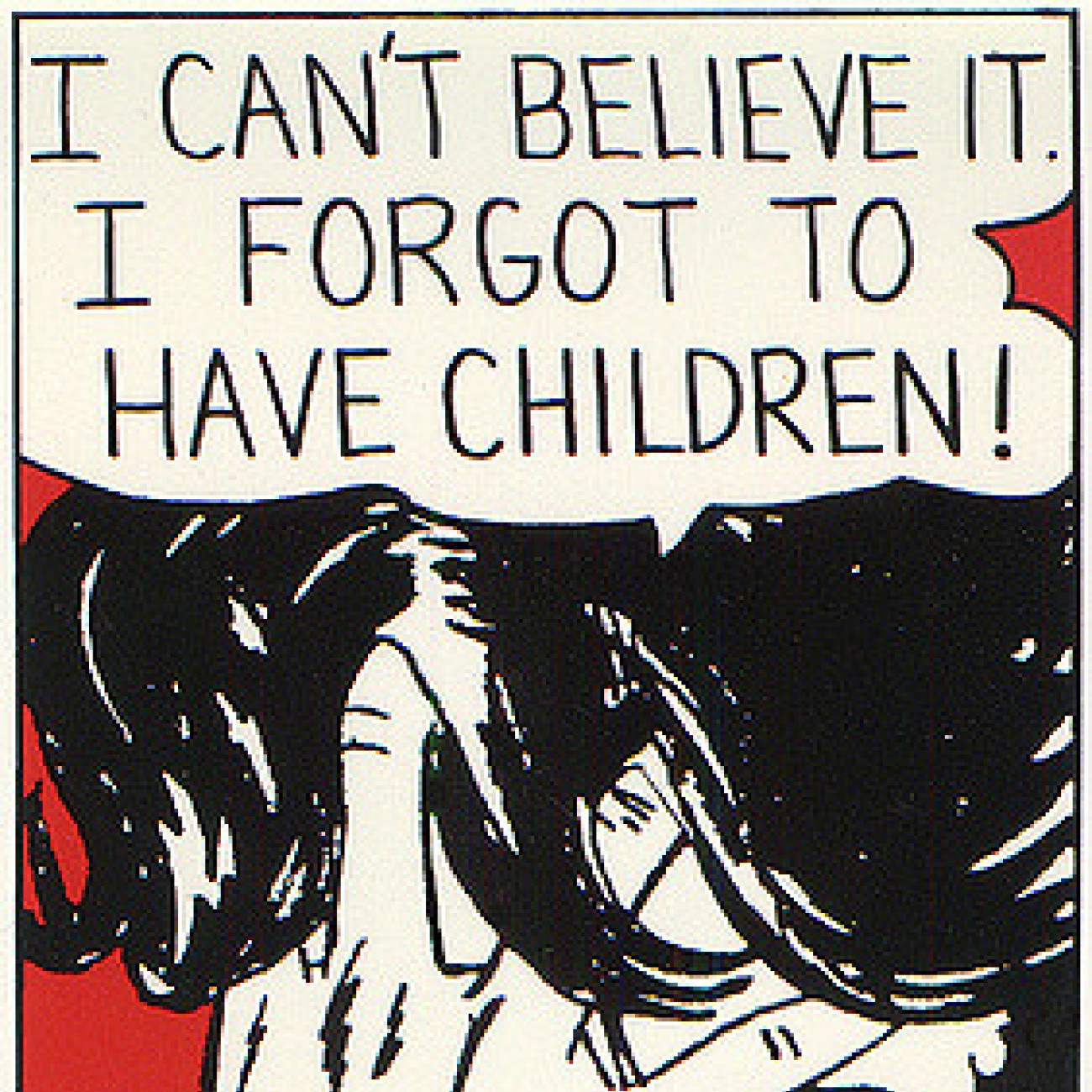 When I was in my late twenties, t-shirts featuring a Roy Lichtenstein comic-style picture with a women looking concerned and saying "I can't believe I forgot to have children", were popular.  At the time, I was working on my degree, I had a good resume of interesting work experiences under my belt, and I wasn't thinking about children. I thought the t-shirt was amusing as a feminist comment that women have other very important work to do, so 'forgetting' to have children wasn't that far off. A few years later, when I did become a mother, I was not prepared. I had assumed that I would carry on with my work and my career trajectory as planned. Instead, as I dropped my son off at day care, my heart wrenched and my anxiety skyrocketed. Of course, he picked up on my anxiety and separating was a horrible ordeal for both of us. I just wanted to stay home and be with my son. I thought, though, that there must be something wrong with me. So many other women were working and having children and they all seemed to manage just fine. I remember going to an interview, blankly staring at the person interviewing me, and feeling like a deer caught in the headlights when asked a question. I just froze. My mind went blank – completely. Despite my previous intentions, I eventually realized I needed to follow a different path. I found a job that allowed me time with my family and time for myself. I stayed with that work for 18 years. I didn't end up where I had thought I would, but the work was important and rewarding, and I made great friends.
18 years later I see many women with young families going through something similar. Although I used to think other women were managing a career and children easily, that was never really the case. Even if she looks perfectly at ease, the juggling is never easy for any woman.  Parental leave now is better than it used to be, but the value of raising children and the value of women's contributions in the workforce are both still greatly underestimated. More creativity and flexibility in the workplace and more acknowledgement and recognition of the course of life for women is required. Women should be able to use their education, to excel in their careers, and also spend the time needed to raise their children. This is starting to happen, but it's taking a long time. Because women are now holding higher level positions, and those women place high value on the tasks of parenting, some workplace environments are getting better at retaining talented women by supporting their career progress and their parenting.
I recently left my job that I held for 18 years and took a new position in a new environment. The kids are grown, I have changed jobs, and I now have more freedom to pursue my ambitions. After 18 years, however, ambitions change. I am currently feeling somewhat adrift, like a 20 year old who doesn't know what path to take in life. The uncertainty is a little scary.  Whatever I do, I know I will be enjoying cheering on younger women. I will also be embracing the fact that the future is still pretty wide open at this stage in life. I wonder what will happen next. 
*Comic by Roy Lichtenstein