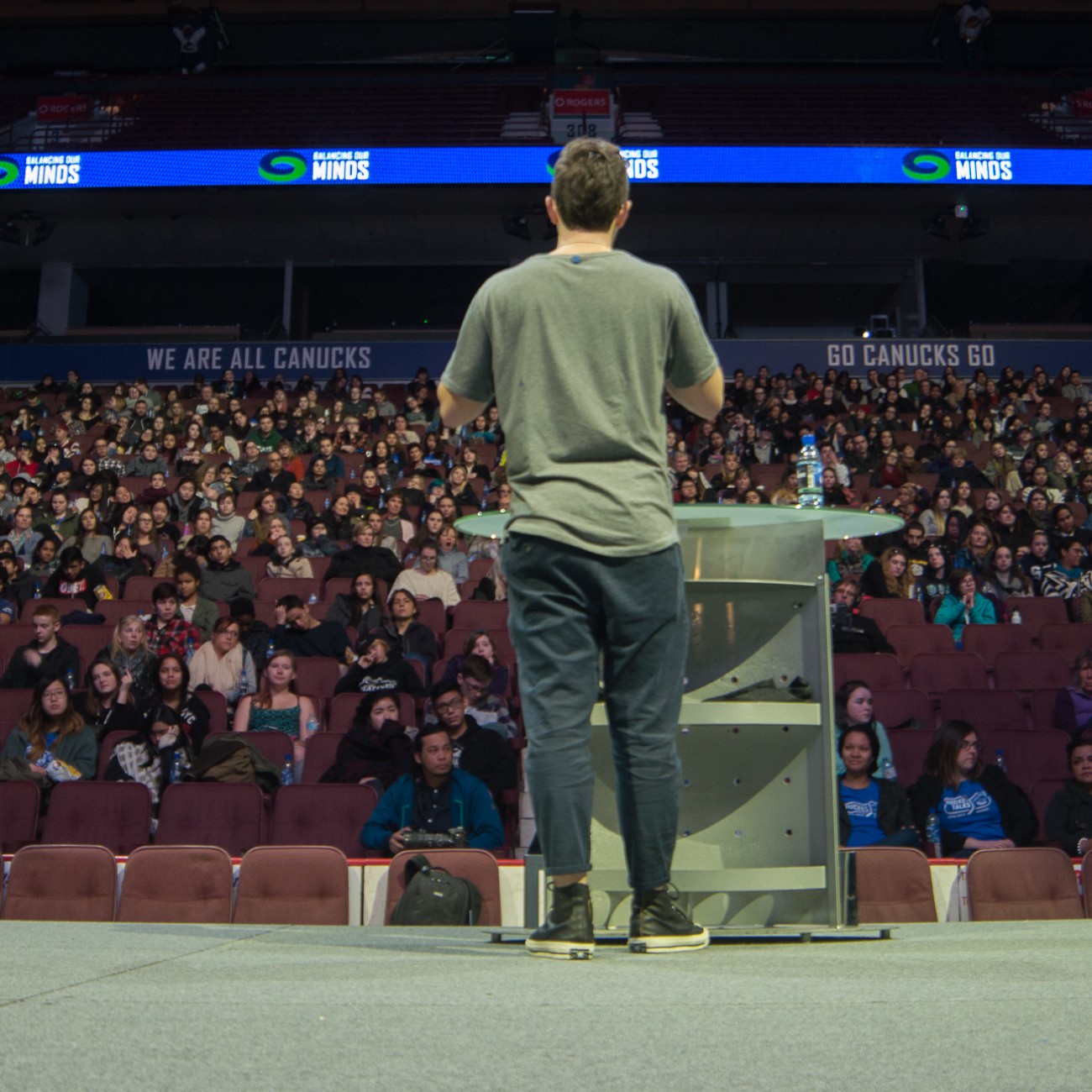 Sharing my story has always been special for me.
Not because I love to talk about myself (I might?), but because it signifies an important point in my journey with mental illness: the moment I was able to turn the most challenging aspect of my life into something positive. Sharing my story became a way to connect with others, a way to acknowledge what other young people may be experiencing and hopefully inspire them to reach out for support earlier than I did. By openly sharing my struggles, I hoped to make them feel comfortable doing the same, and eventually getting the support they need and deserve. This wasn't some selfless act either – sharing my story was one of the most liberating and wonderful experiences of my life. I was advocating for something I believed in, and I loved that about it.  
Now, lucky for me, my work allows me to cross paths with a wide spectrum of unbelievable and inspiring advocates for mental health. I get to meet youth, parents, educators, healthcare professionals, community members etc. – all keen to change the way we discuss and experience mental health challenges as a community. A lot of these individuals are coming from a place of lived experience. Whether they have experienced a mental health challenge themselves, or support someone in their lives who faces similar challenges, it comes from lived experience.  And as beautiful as this is, advocating from a place of lived experience isn't as always as straightforward as it seems. Our experiences are individual by nature, and while this won't surprise everyone, it can be difficult when the very reason you're passionate and involved is the same reason you doubt yourself as an advocate in the first place.
If that sounds confusing, I'll provide some personal context.
 A couple years back, I found myself at a crossroads with sharing my story. Until that point, sharing my story was an amazing and powerful outlet for me, not to mention the main way I was getting involved with mental health. Unfortunately, the crossroads began when my life started wandering down a path that was all too familiar at that point. I was struggling with my anxiety and depression and suddenly felt like a fraud going around to schools and speaking with students.
The problem was simple: who am I to stand and front of these students and tell them there's hope when I feel totally helpless myself? I felt ridiculous talking about wellness tools when I could barely keep a handle on my own wellness. I was supposed to provide hope for what can happen when you reach out for help and get the support you need, but what kind of role model am if my mental health is falling apart?
I thought these students deserved better.
The irony of the situation was obvious: here comes my lived experience, getting in the way of me sharing my lived experience.  As silly as that sounds, that's exactly what was happening. Why listen to my story if it doesn't have this happy ending?
But before I quit speaking for good, I decided to talk to my sister. She's always been my biggest support and inspiration, so I thought it was only fair to run it by her first. Quite frankly, she told me I was being ridiculous.
She told me that if I was going to quit sharing my lived experience because mental health challengers were still part of my life, then I'm completely missing the point of lived experience. The point isn't to stand there and say "I'm better", or to claim you have all of the answers. The point is to be there as someone with compassion, empathy, and a shared understanding of what it means to go through these difficult experiences. In a world where many of these individuals feel judged and ashamed for what they're going through, you're there show them they are not alone. You're there to show them that someone cares. 
And guess what? My sister was right. Back in high school, I didn't need someone to tell me about their life now that it's "better". I needed somebody to tell me I'm not alone. I needed somebody who understood.
The reason I felt compelled to talk about this is that I'm meeting more and more individuals who seem to be questioning their lived experience. Over the years, I've worked with youth who don't believe they should be advocating for mental health because their lived experience isn't as "severe" as other people they know. I've talked to parents who doubt their ability to provide support and advocacy for other parents because their child is still going through difficult times. I've heard stories similar to my own, of individuals who don't believe they've "earned" a right to share their lived experience because the challenges they face are still very much part of their lives. To me, it's as if our lived experience suddenly isn't good enough.
I'm here to tell you it is. Forever and always, it is.
Advocating with lived experiencing isn't about having all the answers, but instead showing that you care. Your lived experience – no matter what it is – gives you a level of compassion and understanding that can't be overstated. It doesn't matter if you're speaking at a conference, getting involved with a support group, or just being there for somebody you know – you're advocating for mental health and making an enormous impact while doing so.
Whether that advocacy has already begun or if you're looking to get involved down the road, I only ask one thing: never second-guess your lived experience. It is yours, both individual and unique, and one of your the greatest strengths in your quest to support others.