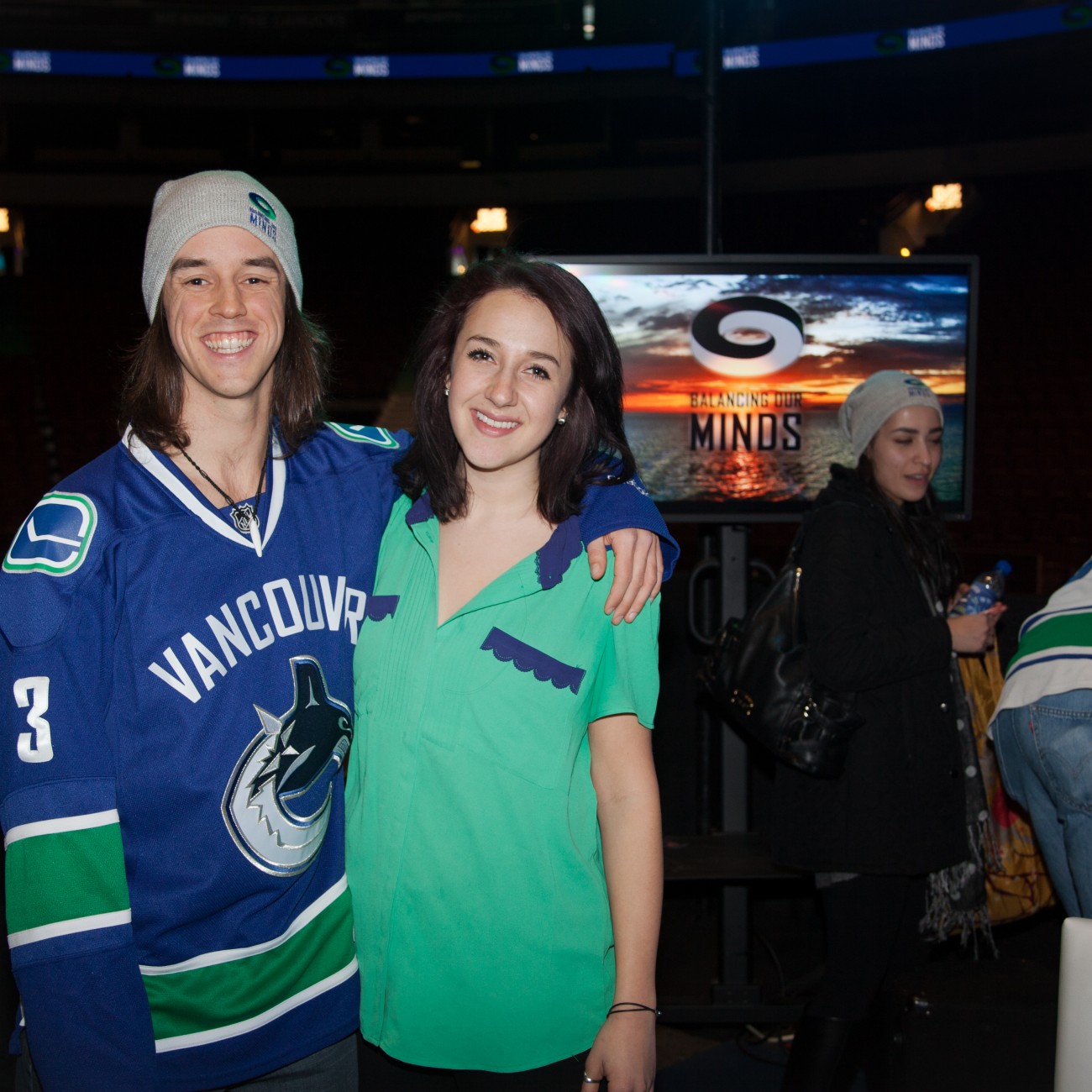 On February 11th, 2014, 1,500 youth from across the province came together at Roger's Arena in Vancouver for Balancing Our Minds 2014 - a day of dialogue and activity on the topic of mental health for youth.
This year's theme was "Tools for Youth Wellness". Throughout the day, youth were encouraged to reflect on their personal strengths and passions as ways to promote and maintain their mental health and well-being.
Brent Seal and Sarah Irving (FORCE Youth in Residence at the Kelty Mental Health Resource Centre) were our hosts for the day. Sarah and Brent had the pleasure of welcoming a diverse range of speakers to the stage, including Wes Rypien (brother of former Vancouver Canuck Rick Rypien), Victoria Maxwell (local comedian and self-proclaimed bipolar princess), Michael Schratter (founder of CMHA's "Ride Don't Hide" campaign), and TEDx speaker Kevin Breel, among many others.
Highlights of the day included musician Lyle Povah's drumming circle, the youth panel discussion, Maddy Monteiro's spoken word poem reading, Kim Harvey's story of discovery and seeking balance in her life, Paul Irving's candid and compelling story of opening up about his mental health, and Amy Pezzente's presentation about body image and eating disorders.
"I enjoyed the people who talked about their story at the event. I enjoyed everything! So happy I got to experience this event and share it with others. Also, I loved how the speakers battled their mental health with success, which was great and amazing to hear!"
Over the lunch hour, over 20 youth-focused mental health organizations hosted tables and spoke to youth about the services and resources they offer, and opportunities for continuing to stay involved in promoting mental health and wellness in their community.
The day concluded with a musical performance by Sarah Moss and Lara Hamburg - high school students and songwriters who use music as a way to share messages of hope and encouragement for youth who may be struggling with mental health challenges.
"Thank you very much for an amazing event. My students came away knowing they are not alone, feeling empowered in the fact that there is hope, and feeling supported."
Overall, there was great energy and learning happening throughout the day. Feedback has been overwhelmingly positive. We are so thankful to the Vancouver Canucks for their generous support, as well as to everyone who attended the event, contributed to the planning,  and volunteered their time. We couldn't have done it without you, and can't wait to start planning for next year!
"One of the best events I have ever been to! Lots of energy. Great success!"
"It was a truly magnificent, exhausting, exhilarating, engaging, powerful day. Congratulations – you have collectively moved the ball forward in a significant way."