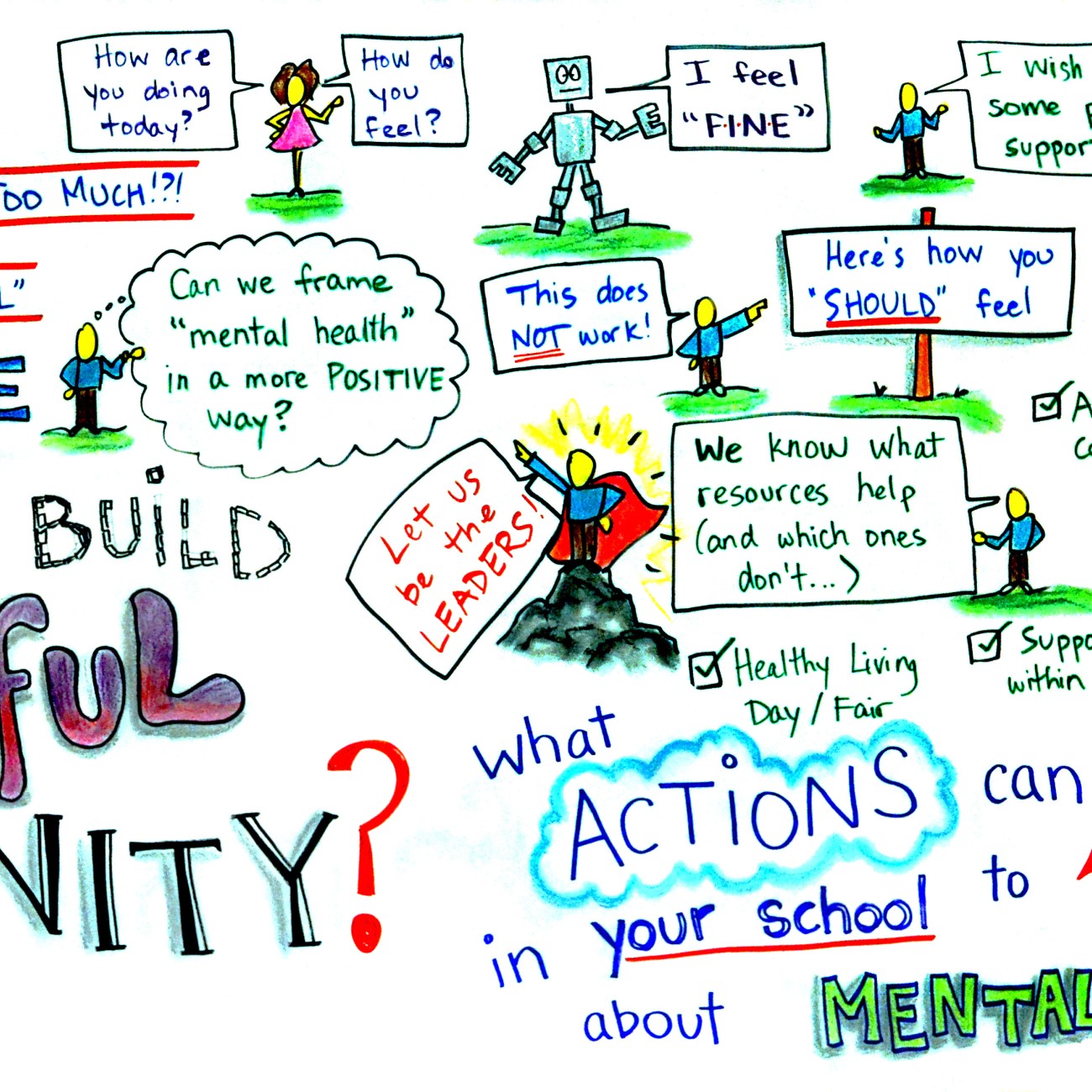 On February 27th, we held the first ever provincial anti-stigma Youth Summit in BC, 'Building a Mindful Community'. The full day event was all about breaking down the stigma around mental health, but it was so much more than that.
We wanted to start the process of building a community of youth dedicated to opening up the dialogue around mental health and wellness. The idea is that when youth are more willing and able to talk openly about mental health, the stigma naturally dissipates.
With the youth fired up after some lively opening speeches, we led a discussion of 'What is Mental Health?' – talking about the relationship between having a mental illness and mental health. The key idea shared was that you can have a mental illness while being mentally healthy (ie. you manage the illness and function well), AND that you can have no mental health diagnosis, yet have poor mental health. What this shows is that mental health affects everyone and that we can all benefit from learning about it, talking about it and working on it.
The afternoon included a panel dialogue with 6 youth who all had different experiences with mental health. It was a powerful and diverse group of youth who shared coping strategies, wellness tips and specifics of living with mental health challenges in a variety of contexts.
Following the panel, the youth attended breakout sessions to offer input on a variety of questions such as 'What can we do to open the dialogue at our schools?' to 'What can we do to build a mindful community?' It was hard to stop the conversations as the youth were so engaged in discussion, but soon enough it was back to the main auditorium for the special guest speakers.
As a surprise to everyone, Kevin Bieska and TC Carling from the Vancouver Canucks closed out the day with a powerful story of their friend Rick Rypien. Kevin and TC spoke candidly about Rick and the message he wanted to share with youth before losing his battle with depression – that it's ok to talk about mental health. The message was well received and by the end of the session, the youth were inspired and still fired up 8 hours after the summit had begun.
After 6 months of planning, our team was thrilled not only by how many youth showed up, but by how engaged and excited they were to be there. These students are pioneering youth mental health in BC and we can't wait to have them back next year. If these are the youth we are producing in BC – open, engaged, passionate about wellness – then we are producing some amazing future leaders, not just for mental health, but for BC.
We of course want to say a special thanks to our funders – Healthy Minds, Healthy Campuses, BC Mental Health and Addiction Services, and RBC; all of our amazing Youth Ambassadors that came out; and our incredible and dedicated Youth Summit Planning Committee members who pulled everything together – especially our Chair, Michelle Cianfrone.
Until next year, Keep Well and Keep Inspiring!