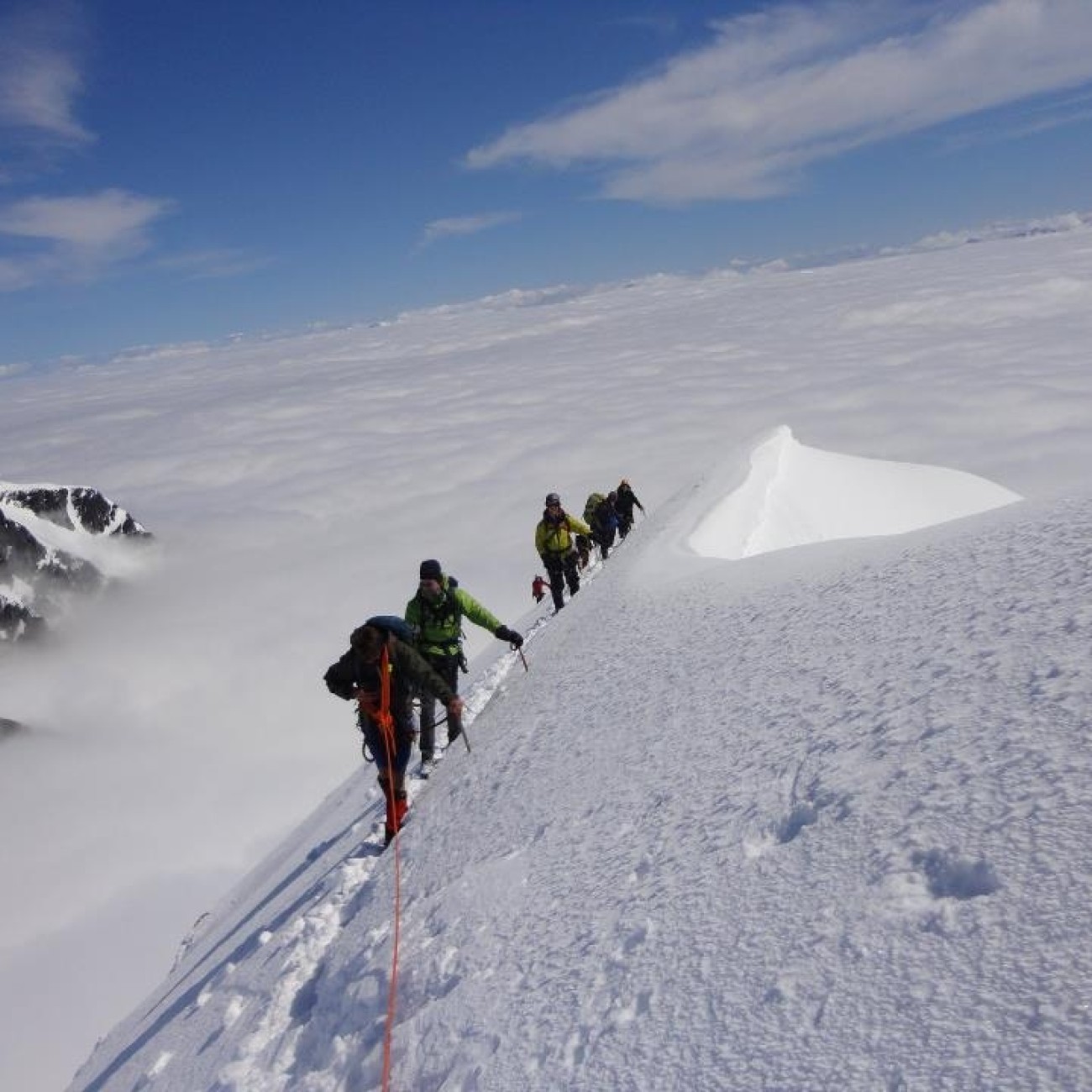 I've been wanting to get into mountaineering for about five years now, since the year I was diagnosed with schizophrenia and I dreamed about climbing Mt Everest. I did end up getting into hiking and backpacking, but it wasn't until this year that I finally got to try mountaineering.
The course offered by the Alpine Club of Canada was three weekends in a row, first practicing rock skills, then snow/ice, and ending off with a summit attempt for the final weekend. The summit we attempted was Mt Matier, an imposing peak high above the Pemberton Valley. It stands 9131ft (2783m) and has one steep section right below the summit ridge. Being 30 people new to the sport, we were quite slow moving up the mountain from our base camp.
Even though we had left camp at 4:30am, we didn't get to the summit ridge until 11am – our turn around time. By the time the first rope team had made it to the true summit, our leaders informed us we would be turning around. We were literally about two metres lower than the true summit, but on big climbs it is important to get off the mountain early to avoid avalanches.
It turned out there were avalanches all day long that day, which was pretty nerve wracking. One had gone straight through the path we had climbed earlier in the day while we were above it, so we would have to cross it and another big avalanche path on our journey back to camp. Our leaders decided that wouldn't be safe, so we waited for 5 hours perched on a rock waiting for it to get cold enough for conditions to improve. We finally made it back to the camp at 8pm, packed our gear and headed down to the cars, arriving at 11pm before a 4 hour drive home. We arrived home 24 hrs after waking up that day. We were exhausted, yet exhilarated.
So what did I learn on this journey? Trust.
Trust in my rope team to catch me if I fell; trust in my ice axe placement in the snow; trust in my footing while climbing down the vertical snow face; trust in our leaders to keep us safe; trust in the mountain to allow us to climb safely; and most of all trust in myself to keep focused, calm and sharp.
Trust is such a big part of adventure sports, but also of wellness. It's adventures like this one I use to strengthen my trust in people, the world and myself. When you trust, your confidence grows, you can take on bigger challenges and you can create memories that will last a lifetime.
With wellness, sometimes you have to trust a doctor, a friend or family member who is offering support. You might not agree with them or feel like following their advice, but if deep inside you trust them, you can follow their lead with confidence. You might have to trust yourself when you say tomorrow will be another day. Hopefully you trust that the world will return your good favors and provide you what you need if you work hard, act with integrity and believe in yourself.
You see, trust is such a big part of life, your awareness of it can offer you benefits to last a lifetime.
What things do you do to increase your trust in People, the World, Yourself? Let us know in the comments!
Keep Well and Keep Inspiring!